September 25, 2023 by
Lydia Hicks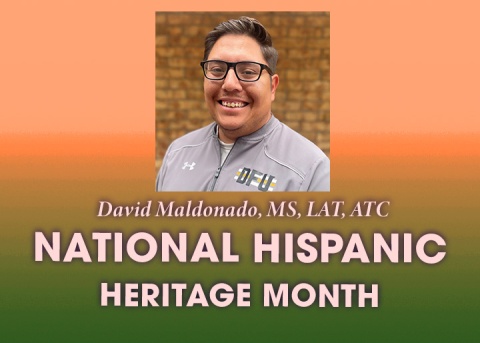 In honor of National Hispanic Heritage Month Sept. 15-Oct. 15, the NATA Now blog is highlighting some of our athletic training leaders at the state, district and national levels.
Sports and medicine are two loves that David Maldonado, MS, LAT, ATC, has always found fascinating. However, the ability to meld these two further bolstered his resolve to pursue athletic training.
"When I was in high school, my school didn't have access to an athletic trainer, which made me realize that this was a common problem among many secondary schools," Maldonado said. "I wanted to be part of the solution to provide athletic trainers to all secondary schools so that student athletes could have access to the care they need to stay safe and perform to the best of their abilities."
Maldonado now actively serves on the New Mexico Athletic Trainers' Association Secondary School Committee, the Rocky Mountain Athletic Trainers' Association Secondary Schools Committee and as the NMATA Board of Directors' southern representative.
His work in the secondary school setting, as well as his state and district volunteer positions, has availed him of opportunities to serve student athletes and his peers.

What was your first volunteer position within the athletic training profession and why did you get involved?
My first experience as a volunteer was serving as the committee chair of the NMATA Secondary Schools Committee. I had the privilege of working alongside esteemed mentors, such as David Gallegos, MA, ATC, Cert. MDT, Tim Acklin, AT Ret., Joe Mora, MA, LAT, ATC, and Jeff Archuletta, MHA, LAT, ATC. They instilled in me the importance of active participation in advancing our profession as athletic trainers. Their guidance and support were invaluable, and I am grateful for the opportunity to have learned from them.
Tell us about your current position as Rocky Mountain Athletic Trainers' Association Secondary School Committee New Mexico representative. What do you hope to accomplish in this role?
My aim is to keep pushing our profession forward and help make the secondary school job setting more attractive and sustainable for all members. I strongly believe that secondary schools are where ATs can practice at the pinnacle of our license and utilize all our AT domains on a daily basis. Moreover, our committee possesses the power to influence policy changes that can make secondary schools safer. Let's work together toward achieving these goals and ensuring a brighter future for our profession.
How has volunteering helped you grow personally and professionally?
Volunteering has been such an enriching experience for me. It has provided me with countless opportunities to work alongside diverse groups of people and establish meaningful relationships with them. Through my volunteer work, I have gained valuable communication and interpersonal skills that have helped me both personally and professionally. Additionally, being in a leadership position has allowed me develop greater self-confidence and has given me the chance to help others when they need it. Overall, I feel incredibly grateful for the chance to volunteer and the positive impact it has had on my life.
Why is representation in leadership important and how does it impact the profession?
I strongly believe that having diverse leadership is crucial in any organization. When you have people from different backgrounds and experiences in positions of power, it can lead to more thoughtful and inclusive decision-making. It's important to consider the perspectives of everyone involved, and having diversity in leadership helps ensure that happens. Plus, when people see others like them in leadership roles, it can inspire them to step up and become leaders themselves. It's a win-win situation.
Why should ATs get involved in leadership and service?
By getting involved in leadership and service, ATs can leverage their expertise to make a positive impact in their communities and our profession. For example, ATs can serve on committees or boards that focus on sports safety, injury prevention or rehabilitation. They can also volunteer their time to help organize and run sports events or clinics. Additionally, ATs can use their skills to mentor and train future ATs, which helps to ensure that high-quality care is available for athletes of all levels.
What advice do you have for other athletic trainers who want to give back to the profession?
I've learned that sometimes the best thing to do is to just go for it and find what really works for you. It may take some time and effort, but in the end, it will be worth it. Also, bring a friend!