July 6, 2023 by
Lydia Hicks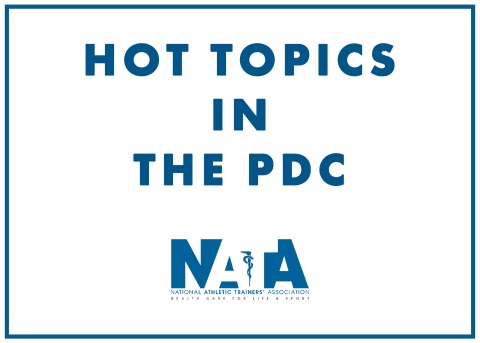 The NATA Professional Development Center (PDC) offers seminal courses relating to diversity, equity, inclusion, and access (DEIA), health disparities, social determinants of health (SDOH) and the role of the athletic trainer. Other courses present the topic of sports science and more. The courses include:

Social Determinants of Health & the Health Pyramid of Influence: Public Health Concepts Applied to Athletic Training
Speaker: Jessica Wallace, PhD, LAT, ATC
SDOH are social factors that can have direct or indirect effects on health, and they play a fundamental causal role in understanding health outcomes. Specifically, where individuals live, learn, work, play, worship, etc., powerfully shape health; and these SDOH have a strong connection to athletic training health care. Understanding these concepts can help to improve patient-centered care and health equity.
Understanding Health Disparities and the Foundations of the Social and Structural Determinants of Health for Athletic Training
Speaker: Kemba Noel-London, PhD, ATC, CES
The goal of this course is to provide a foundational overview on the structural and social determinants of health and how they have produced and maintained health disparities. Further discussion topics will include the relevance of these concepts to understanding patient health outcomes, athletic training practice and education, as well as the research that informs evidence-based practice.
The Role of Diversity, Equity, Inclusion and Access in Career Satisfaction in Athletic Training
Speakers: Revay Corbett, PhD, ATC, PES; Darrell Gililland, EdD, LAT, ATC
As the athletic training profession diversifies, employers have been challenged with creating an inclusive culture that welcomes, promotes and values diversity within the workplace. However, individuals from diverse groups commonly find themselves excluded from networks of people, information and opportunity. These experiences of exclusion may affect their general sense of well-being, job satisfaction and organizational commitment. In addition, perceptions of exclusion may also affect an individual's long-term professional tenure and retention in the athletic training profession. This course seeks to describe the relationship between organizational diversity, perceived inclusion, administrative support on job performance and career satisfaction in athletic training.
Learn About Sports Science in the PDC
A new course is now available in the PDC: "Sports Science Module 1 - Athletic Training and Sports Science: Building a Successful Organizational Model." The purpose of this course is to help fill the knowledge gap regarding different practice models in professional sports and provide recommendations on how ATs can lead successful organizational change. Additional modules are available and can be completed after Module 1. 
Don't Forget!
2023 is a reporting year, and it's never too early to earn your required CEUs. NATA members receive 10 free CE credits (a $150 value) that can be used in the PDC through Dec. 31.
Visit the PDC to learn more and enroll in your courses.