October 31, 2022 by
Lydia Hicks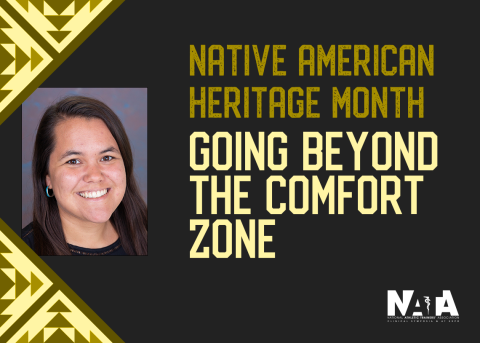 Commemorating National Native American Heritage Month in November, the NATA Now blog is highlighting some of NATA's Native/Indigenous American athletic training leaders and their impact on the profession.

Early in her education, Saskia Richter, PhD, ATC, realized that although she loved health care, the hospital setting was not for her.
But she never gave up on health care. Richter said that having the great fortune of being mentored by an athletic trainer at Hayward High School, her rural secondary school in Wisconsin, she learned about the advantages of the athletic training profession and dove right into it.
"[The athletic trainer] let me shadow her during my junior and senior years, which ignited my path," Richter said. "Getting to problem-solve, work with patients and not be stuck in an office all day were the selling points for young me."
Now, as the Delaware Athletic Trainers' Association (DATA) Young Professionals Committee (YPC) chair and NATA Professional Development Committee (PDC) District Two representative, Richter works to develop athletic trainers of all backgrounds.
Read further to learn more about her influence and impact on the profession.
 
What was your first volunteer position within the athletic training profession and why did you get involved?
I got involved with the Ohio Athletic Trainers' Association YPC right out of undergrad. It was a great opportunity to meet new people in a state I just moved to. YPC is a "low stakes" group to get involved with and everyone else is early in their career – this helps it feel less intimidating to get involved.
Tell us about your current position as the NATA Professional Development Committee District Two representative and what you hope to accomplish in this role.
I'm new to the PDC – but I'm excited to be involved and give a fresh perspective to professional development and educational programming. While I teach within an athletic training program, I also have the pleasure of working with a variety of health professions education programs. One of my big goals is to provide our community with programming aimed at interprofessional education and practice. Because at the end of the day, we are a part of the larger medical team.
Why do you give back to the profession?
I always describe athletic training to students as my "first love." There really isn't much I wouldn't do for my program, colleagues, students and the profession as a whole. I've had the pleasure of benefitting from amazing mentors in the field, and seeing them give back inspired me to do the same. So why do I give back? Because I saw the impact my mentors had on the profession, and I want to contribute to our continued growth.
Why is representation in leadership important and how does it impact the profession? We are a diverse profession that works with a diverse population. Having variety and depth in our leadership shows we are committed to hearing all sides of a narrative and that voices aren't left out.
Why should ATs get involved in leadership and service?
If you want our profession to keep improving – with regards to educational standards, salaries, settings, respect, etc. – then you have to be willing to give back and voice your thoughts. We won't all agree on everything – but at the end of the day, we all want athletic trainers to be successful. Getting involved with leadership and service ensures that your voice will be a part of the story when the profession makes changes and continues to grow.
What advice do you have for other athletic trainers who want to give back to the profession? 
Don't feel like you must know everything about a committee – or the profession – to get involved. There are opportunities at the local, state, regional and national levels. Every group I've been a part of has been welcoming! We are here to help other ATs volunteer and lead our profession. Have a background in fundraising? Love planning events? Just enjoy talking with other passionate ATs? There's a group that would fit your skill set. I also encourage you to try something new. I attended a governmental affairs session here in Delaware, and I know nothing about that realm. Not only did I get to meet other DATA members, I learned something new and was able to contribute. So, my advice is, don't hesitate to volunteer because you are afraid. Jump into something you are passionate or interested in, and other members will help you!