November 2, 2022 by
Lydia Hicks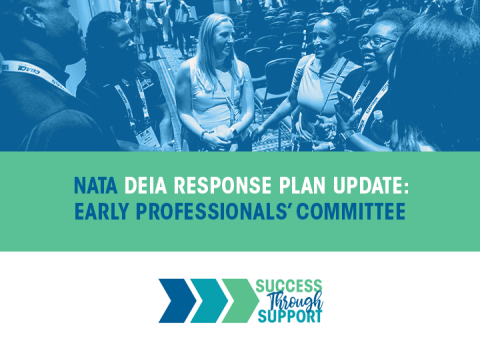 As part of Phase Six of NATA's Diversity, Equity, Inclusion and Access (DEIA) Response Plan, each NATA committee, commission and council was tasked with developing three to five actionable items that support one or more of the six NATA DEIA Commitments.
In this blog post, which is part of an ongoing series highlighting these efforts, NATA Early Professionals' Committee Chair Emily Mulkey MS, LAT, ATC, outlines EPC's actionable items, what the committee hopes to achieve and how members can get involved.
 
What are your committee's three to five DEIA actionable items, and why were they selected?
Creation of a DEIA-specific mission statement that has been added to the official EPC mission statement: We chose to add a mission statement because we wanted a lasting commitment that would stay within the identity of the committee. New members who volunteer for the committee see this when they onboard and it is discussed by the committee when we do our annual review. This keeps a continual focus on making DEIA a priority to early professional members.
 
Addition of DEIA-specific criteria included in EPC award rubrics to hold DEIA as a standard of excellence within the early professional population of the NATA membership: We were so excited to bring this commitment to the table because awards help define expectations of excellence. When EPC thinks of excellence within early career ATs, having a passion for DEIA is a critical part of the athletic training professional we want to recognize. By holding this standard within our grading rubric, it stays as part of the fabric of our committee's standards.
 
Questions regarding individuals' knowledge and commitment to DEIA both clinically and within the athletic training profession have been added to the EPC interview process: This is another long-term goal that EPC believes will continue to make DEIA a more regular and consistent conversation within athletic training. As we bring on new committee members, showing our expectation of intentionality around DEIA topics is crucial.
 
The initiation of year-round social media campaigns that discuss other forms of DEIA that are not as often discussed: This includes religious and cultural diversity that may impact how patient care is given or received by patients. Education and understanding are the first steps to being able to change and improve an individual's habits. By using social media, EPC will bring increased levels of awareness and understanding to patient populations that may differ from where one is located. Social media also offers a casual space that can continually be updated, allowing for enhanced levels of access to this information.
 
Modification and enhancement of accessibility for all EPC social media accounts: Starting with better captions, language options, infographics, talk-to-text capabilities and more, EPC wants to make sure that all information shared through any media outlet from EPC is accessible to as many individuals as possible. This includes access for those who are hard of hearing and those with vision impairments.
Tell us about the development process that led your committee to these actionable items.
EPC focused on long-term sustainability and out-of-the-box solutions for our actionable items. We wanted to make sure that, as the first commitments made for DEIA from our committee, they would remain impactful even after we leave the group. That led us to find ways that DEIA can be consistently brought into the fundamentals of the committee's work. From onboarding and interviewing to highlighting members who display excellence, DEIA should always be a part of those conversations. We also valued approaching DEIA efforts in ways that are sometimes missed. By highlighting the way that our committee interacts with the membership as well as continually raising the bar of knowledge around DEIA, EPC hopes to make a unique and sustainable focus on the importance of EPC within the athletic training profession.
How will the actionable items you've outlined impact NATA's members?
NATA members will not only see increased conversations around DEIA within the early professionals' population, but also a new level of respect for these conversations. DEIA discussions can be challenging, but with increased exposure, education and respect solidified as foundational to the early career population, we can create a generation of leaders ready to have DEIA always at the forefront of their careers and profession.
How do you hope your committee's actionable items will contribute to NATA's overall efforts to improve DEIA?
I applaud the NATA's focus and drive for the advancement of DEIA efforts within our profession. The increased awareness and passion is noticeable and only enhanced by what each committee brings individually. We hope to show a united front alongside each other's committee that dedication to DEIA is not a phase, but an ingrained part of the athletic training health care model. By EPC's DEIA commitments focusing within the fundamentals of our committee, we believe that the culture of EPC will match the organization's commitment to forwarding these efforts and uplift the membership as a whole.
Where are you in completing your three to five actionable items?
EPC has completed our foundational DEIA commitments. We have written and included our DEIA mission statement on our webpage as well as added criteria for DEIA commitment in our interview and awards rubric processes. We are continuing to advance our social media platforms and constantly finding new clinical insights to different forms of DEIA to share with the membership on these social channels.
How can your fellow NATA members help bring these actionable items to life? 
Continue the conversation! We love getting feedback on new ideas, things we can improve on, and resources to better support the membership. Being an early professional is exciting, but can be challenging, and we want to serve as a resource and support to all members. The more we hear from the membership, the more we can tailor our resources to be most supportive.
Where can members learn more about your committee's DEIA efforts?
Follow EPC on all social media platforms and our website to connect with us and see how we are weaving DEIA into the everyday aspects of NATA membership and find ways to improve your clinical practice around DEIA subjects! Join the conversation on Instagram, Twitter and Facebook.