June 29, 2023 by
Lydia Hicks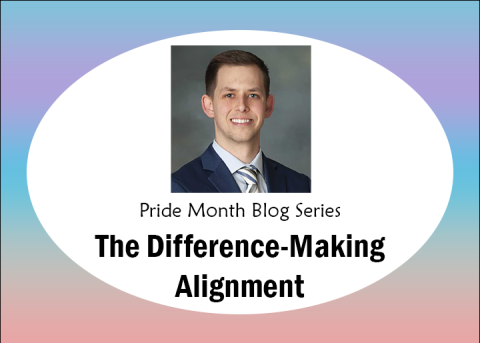 To commemorate Pride Month, throughout June the NATA Now blog is highlighting members of the NATA LGBTQ+ Advisory Committee and their impact on the profession.

For Sean Rogers, DAT, LAT, ATC, the practice model under which athletic trainers operate in traditional and non-traditional settings attracted him.
"Essentially, the ability of athletic trainers to prioritize patient care over financial considerations resonated deeply with my values and motivated me to contribute to a field that places patient well-being above all else," said Rogers, whose passion for the profession drew him to collaborate with influential NATA members to help establish the NATA LGBTQ+ Advisory Committee.
Still active within the committee, the Drake University associate professor and coordinator for clinical education continues to cultivate his love for the profession and the LGBTQIA+ community within and outside of NATA.  
The support, resources and continuing education opportunities he provides to ATs and AT students who identify with the LGBTQIA+ community are some of the ways he has made his mark on the profession.
Rogers shares insight into his leadership experience.
 
What was your first volunteer position within the athletic training profession and why did you get involved?
I had a bit of a non-traditional experience with my first volunteer position within athletic training. Instead of finding a position and applying for it, I collaborated with a group of highly motivated individuals, namely Emma Nye, DAT, LAT, ATC, Ashley Crossway, DAT, ATC, and Lindsey Eberman, PhD, LAT, ATC, to bring forth an idea to NATA.
This idea involved creating a work group that focused on exploring the value and feasibility of an LGBTQ+ Advisory Committee. With the support from NATA and numerous other stakeholders and passionate volunteers, this work group was created and ultimately transformed into the NATA LGBTQ+ Advisory Committee we have today – the same committee I still serve on.
I want to emphasize that this process – from having no prior athletic training-specific volunteer experience to collaboratively spearheading an initiative that culminated in the establishment of a national committee – highlights the immense opportunities available within our profession for those driven by passion and a desire to make a meaningful impact.
Tell us about your current position with the NATA LGBTQ+ Advisory Committee. What do you hope to accomplish in this role?
I currently have the privilege of serving as the District Five representative to the NATA LGBTQ+ Advisory Committee as well as chairing the Mid-America Athletic Trainers' Association LGBTQ+ Advisory Committee. These positions provide me with a platform to advocate for the health and well-being of LGBTQIA+ patients under the care of athletic trainers, while also offering support, resources, and continuing education opportunities to athletic trainers and students who identify as part of the LGBTQIA+ community.
It's my belief that all patients, regardless of their sexual orientation or gender identity, deserve equitable access to high-quality health care. Through the NATA LGBTQIA+ Advisory Committee, I hope to assist in driving positive change, dismantling barriers, and promoting equity and inclusivity within the athletic training community.
How has volunteering helped you grow personally and professionally?
Volunteering with the NATA LGBTQ+ Advisory Committee has been a pivotal experience that has significantly influenced both my personal and professional growth and has positively influenced my career path. These experiences have also provided me with tangible strategies and approaches to leverage my passion in advocating for positive change. My time with the NATA LGBTQ+ Advisory Committee has also afforded me invaluable networking opportunities, which have resulted in connections with individuals from diverse backgrounds and practice settings nationwide, resulting in many valuable friendships.
Why is representation in leadership important and how does it impact the profession?
I feel that representation in leadership is exceptionally important for the overall health of our profession.
Why should ATs get involved in leadership and service?
Engaging in leadership and service offers so many unique benefits. The one I would like to highlight specifically would be the ability to make a difference. Taking on leadership and service roles allows you to have a direct impact on the direction of our profession. Through actively participating in volunteer opportunities, you can contribute your unique perspectives and innovative solutions to encourage positive change.
What advice do you have for other athletic trainers who want to give back to the profession?
If you are considering volunteering and giving back to the profession, I encourage you to first take a moment to ponder your passions, professional interests and your own unique skill set. By aligning your volunteer efforts with these aspects, you can make a significant impact and are more likely to find fulfillment and enjoyment through your volunteer experiences.
Within our profession, there is no shortage of volunteer opportunities and avenues to explore. Whether you are drawn to a specific cause, particular patient population or practice setting or, perhaps, an area where you can utilize your expertise, it's important to focus on opportunities that align well with your passions, interests and skills. When everything aligns, you'll be amazed at what you can achieve and the difference you can make.