October 12, 2023 by
Lydia Hicks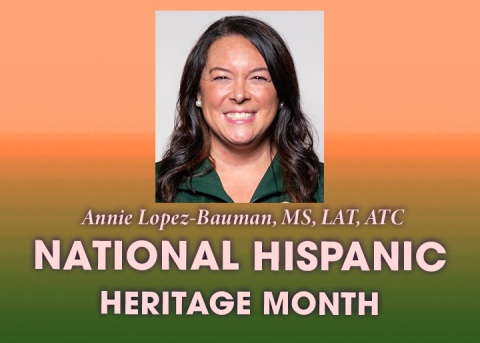 In honor of National Hispanic Heritage Month Sept. 15-Oct. 15, the NATA Now blog is highlighting some of our athletic training leaders at the state, district and national levels.

As a young athlete, Annie Lopez-Bauman, MS, LAT, ATC, didn't realize the value of an athletic trainer until she sustained a knee injury.
"I was introduced to the athletic trainer at my high school and working with him really sparked my interest for the profession," she said.
Accompanying this inspiration was the influence that a series of mentors had on Lopez-Bauman during her undergraduate and graduate studies.
"Their respect and passion for the profession stuck with me, and they demonstrated how this profession is a lifestyle, not a 9 to 5 job," she said. "I still admire these people and I wouldn't be where I am today without their mentorship."
Now assistant athletic director for sports medicine at Colorado State University, the Intercollegiate Council for Sports Medicine Mountain West Conference and District Seven representative shares her path as an AT leader.

What was your first volunteer position within the athletic training profession and why did you get involved?
ICSM is the first volunteer position I have been involved in. I attended a meeting several years back when it was formerly known as the NATA College/University Athletic Trainers' Committee. Several people I have a ton of respect for have been on this committee, and I wanted to be able to connect, network and learn from other like-minded people.
Tell us about your current position as Mountain West representative for the NATA Intercollegiate Council for Sports Medicine Division I Committee. What do you hope to accomplish in this role?
Well, the mission of this committee is to address issues affecting the student athletes and athletic trainers in collegiate institutions. I am passionate about the student athletes and staff of athletic trainers that I work with daily at my university. I have always wanted the athletes I work with to have a positive student athlete experience at our institution and to provide them with a high level of health care. In recent years, I have moved to a leadership role within our sports medicine department and in this role I strive to create a positive work environment for our staff. The alignment with this committee and ability to advocate for our student athletes and staff of athletic trainers at a higher level was a great opportunity to do that. I hope to continue to grow my skill set and leadership skills by collaborating with a brilliant group of collegiate athletic trainers. I want to contribute as much as I can with the perspective and experiences I have had so far in my career.
How has volunteering helped you grow personally and professionally?
I started volunteering during the COVID-19 pandemic. I was quite burnt out at one point, and joining this committee helped restore my passion for what we do. Professionally, I have improved my problem-solving skills and continued to focus on improving my leadership skills. Working in college athletics there are always new challenges, and ICSM takes serious consideration in everything it tackles.
Why is representation in leadership important and how does it impact the profession?
Knowing there are opportunities for people of color can help recruitment and retention of athletic trainers. Seeing diversity in representation and diversity in decision-making fosters an inclusive environment. The population of women and women of color working in college athletics is still small, so every representation makes a difference. Our patients also benefit from being served by a diverse population. Collegiate student athletes come from all backgrounds, races, ethnicities, cultures, etc. It goes a long way for them to see others that look like them in the athletic training facility. We should be prepared to provide a culturally sensitive approach to our treatment methods and understand the health disparities that exist among some groups and be sensitive to each person's needs.
Why should ATs get involved in leadership and service?
Athletic trainers should get involved to help advance the profession and there are so many ways to do this. If you want to engage with a greater community, get involved. If you want to influence policy, get involved.
What advice do you have for other athletic trainers who want to give back to the profession? Join a committee with a mission that aligns with your passions or join a committee in an area you wish to learn more about and grow your skill set. Your perspective makes a difference, and you will get as much out of it as you put into it.