May 15, 2023 by
Lydia Hicks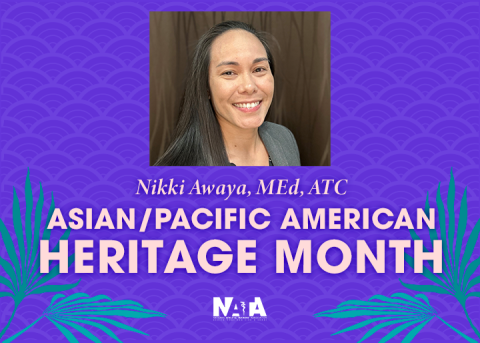 In honor of Asian/Pacific American Heritage Month in May, the NATA Now blog is highlighting some of our Asian American and Pacific Islander leaders at the state, district and national levels.

At age 14, Nikki Awaya, MEd, ATC, already knew the athletic training profession was the right path for her.
Now an athletic trainer in the secondary school setting, Awaya said that while she enjoys seeing athletes win completions, it's even more rewarding to see them win in life.
"I know the effect athletics can have on kids growing up, and I also know how devastating injuries can be when you can't play the game you love," she said. "It's important for me to help athletes heal from their pain, whether it's physical, mental or emotional."
Awaya's desire to help young athletes recover and return to competitions, while witnessing their wins in sport and life, has taken her further into current roles in leadership. Having previously served as the District Eight representative to the Hawaii Athletic Trainers' Association (HATA) and the HATA secretary, she is the association's current president.
Read on to learn more about her service and impact on the profession.

What was your first volunteer position within the athletic training profession and why did you get involved?
My first volunteer position within the athletic training profession in Hawaii was with the Athletic Training Student Aide Workshop. I decided to help because I wanted to share my love for the profession and hopefully inspire the younger generation to pursue a career in athletic training.
Tell us about your current position as Hawaii Athletic Trainers' Association president and what you hope to accomplish in this role.
I'm in year one of my two-year term as HATA president. I hope to inspire other athletic trainers in the state of Hawaii to serve in the association. Although Hawaii is not a very large state, it can be challenging to collaborate with everyone as we are on separate islands. Thankfully, technology keeps us connected and makes communication much more convenient. I am hoping to utilize said technology and social media to spread the "aloha" of Hawaii athletic trainers to the rest of the world. My executive board and are still learning the ropes of leading HATA, but we are honored and having fun!
How has volunteering helped you grow personally and professionally?
Volunteering has helped me grow professionally as an athletic trainer because it required me to start working outside of my comfort zone. When I started working as an AT, my knowledge was limited compared to now. Through volunteering, I am able to meet many new people, and with each connection, I'm able to learn something new. Volunteering has also made me grow as a person. At times, our career can be very stressful, and volunteering is not at the forefront for me. I've learned how to persevere, not just through experience but also by working alongside like-minded people who strive for the greater good. I'm constantly and consistently inspired to continue working, regardless of how difficult it can be.
Why is representation in leadership important and how does it impact the profession?
I think representation in leadership is important because, sometimes, we get overwhelmed by the rigors and demands of our career, and it's helpful to see people rise up and continue forward. When challenges arise, it can be reassuring to see that those in the same or similar shoes as you are still trudging along and making the best of their situation. Exhibiting resiliency can prove to others that we can fall down sometimes, but should never be counted out; I also hope it proves to others that they are never alone.
Why should ATs get involved in leadership and service?
ATs should get involved in leadership and service for the longevity of our profession. We continue to grow as professionals due to the effort and hard work of leaders that came before us. More people benefit from the services of athletic trainers because our profession is recognized and acknowledged.
When we continue to build upon the foundation set before us, we continue to expand our limits, and it's exciting to think about what the future holds for athletic training.
What advice do you have for other athletic trainers who want to give back to the profession?
Be honest with yourself from the start and throughout. Sometimes we have an innate feeling to help out, but haven't the slightest idea how. Put yourself out there and let it be known that you want to help. Others will guide you in the directions where you are needed. When that happens, be honest with yourself. Can you fulfill all that's being asked of you? Can you do more? Are you enjoying what you're doing? Sometimes we overextend ourselves without realizing that we are sacrificing too much. When that happens, pause. Don't stop what you're doing completely. Take time to reassess. Reach out for help when you need it, then proceed. Always remember your "why."