January 30, 2023 by
Lydia Hicks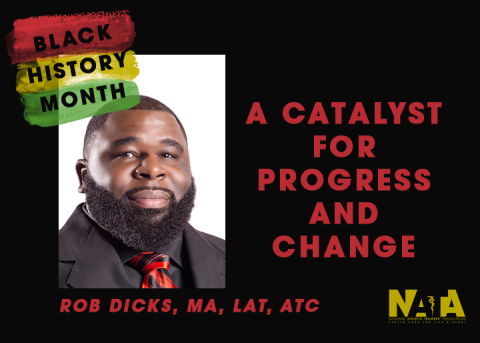 In honor of Black History Month, NATA is highlighting some of our Black leaders at the state, district and national levels and shares insight into their volunteer journeys. 

The love for athletic training came easily to Rob Dicks, MA, LAT, ATC, whose passion for athletics and health care drives him to this day.
"In high school I was injured, then met an athletic trainer named Jenny. From that day forward, I knew for sure it was the profession for me," he said.
Throughout his AT career, Dicks has paved the way for effective operations and minority representation in the profession. His determination to lead by example has propelled him from volunteering during the 1999 Georgia versus Florida Junior Tennis Tournament at Valdosta State University (VSU) to his current leadership roles as NATA Ethnic Diversity Advisory Committee (EDAC) District Nine representative, Southeast Athletic Trainers' Association (SEATA) EDAC chair and ideas volunteer for the Board of Certification for the Athletic Trainer.
Now working in the secondary school setting, he said he also hopes to fill some gaps in differential care, both at historically Black colleges and universities and secondary schools with scarce resources.
"Both projects have to be long term and continue to be carried as the torch continues to be passed," he said.
Read on to learn more about his journey in athletic training leadership.
 
What was your first volunteer position within the athletic training profession and why did you get involved?
My first volunteer experience was helping with a Young Professionals Committee session. I was listed as a mentor and asked to speak in a session at an NATA symposium. I remember speaking to a group of young professionals and students about motivation. I've always been a teacher/mentor, so I got involved to be able to tell my story and pass on some lessons that I'd learned over the years.
Tell us about your current position as the NATA EDAC District Nine representative and what you hope to accomplish in this role.
In my role, I function as the SEATA EDAC chair of seven states. I meet with the state representatives monthly to speak about things happening in each state. This could be anything from equity issues, programming for underprivileged schools, Be The Match drives, etc. I then take the information from each state and report it to both NATA EDAC and the SEATA Board of Directors if we decide more assistance is needed. I also speak to students in athletic training programs to inform them on how EDAC can help them as well. I encourage them to reach out to their state representatives to find out more. Finally, a very special part of the SEATA EDAC role is assisting to find a yearly Arnold T. Bell Scholarship recipient. In 2021, we began giving away a $2,000 scholarship to a postgraduate student member of SEATA in honor of a great mentor of the athletic training world, Dr. Arnold T. Bell. 
How has volunteering helped you grow personally and professionally?
Volunteering has helped me to show others how important it is to work for progress and change because it's the right thing to do. I enjoy being involved in many ways to help make things efficient and effective. Professionally, it allows me to meet so many other people with the same determination and allows me to introduce more people to my colleagues/mentees and helps them in their professional goals as well.
Why is representation in leadership important and how does it impact the profession?
Simply put, representation matters! It should matter to everyone. Leadership should represent the population of its people. People want to see someone who looks like them sitting at the table. This provides the thought that one day, they may sit at the table. Also, it provides the thoughts that their shared issues and ideas are being discussed and solutions are being brought to the forefront.
Why should ATs get involved in leadership and service?
As in any field, I believe ATs must lead by example and do the work to make things happen for themselves. Who would be a better leader than one that has been in the grind day in and day out? Someone who knows the issues and has the rapport to get more like-minded folks on their side. These are the best leaders because they have worked "in" and "through" the times. So if you care about the profession and want it to thrive, get your hands dirty and put some work in to turn your ideas into fruition. Be a problem-solver.
What advice do you have for other athletic trainers who want to give back to the profession? 
My advice would be to give back abundantly! There are tons of ways to give back. Personally, this profession has given me a lot, and I am doing my best to give back a hundredfold. I do this through being a preceptor, mentor, volunteer, advocate and many other ways I believe that I help share and promote athletic training as the most rewarding profession in the world. We do have a tough job and some are even tougher than others. I know sometimes we feel the work we do is unseen by many, but the feeling we get when an athlete we have worked with has returned to play is insurmountable! If nothing else, give back to and for that person. Do it for your own gratification and knowing you're making lives better than how you found them.