September 19, 2022 by
Lydia Hicks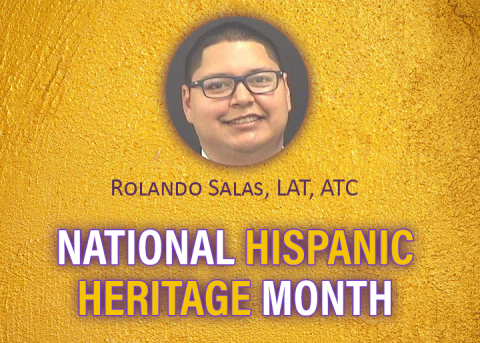 In honor of National Hispanic Heritage Month Sept. 15-Oct. 15, the NATA Now blog will highlight some of our Hispanic/Latinx leaders at the state, district and national levels.

As the former Texas chair to the SWATA Young Professionals' Committee, Rolando Salas, LAT, ATC, sees the value in volunteering. Not only does volunteering advances the profession as a whole, but it's a great way to grow personally, as well.
"When you are working toward solutions to problems, it gives you that bit of hope that we will continue to thrive and improve," he said.
Salas, a secondary school athletic trainer in Texas, is now the vice president of the West Texas Sports Medicine Society, where he hopes to help ATs in his region make connections. Read on to learn more about Salas' experience with giving back to the profession, and why it's important to him.

Why did you become an athletic trainer?
When I was in sixth grade, I was the manager for the Wheeler Mustangs six-man football team. I was tasked with many jobs, such as field set up and hydration management. I met my first athletic trainer that year as we had a contract athletic trainer, Stephanie Sumpter, MS, LAT, ATC, who would arrive during varsity football games. I was always thrilled to watch her work and perform the duties of an AT, and that stuck with me the rest of my secondary education years since we did not have that contract the remainder of my time there. I chose to attend West Texas A&M University and it was a God-given blessing that it offered a CAATE-accredited program.
What was your first volunteer role within the athletic training profession and why did you get involved?
In college, I joined many organizations such as Phi Delta Theta and the Athletic Training Student Association. It has always been a priority of mine to get involved because I truly believe that it is the best way to grow as a person and as a professional!
I remember applying for my state association and never hearing back from them, which was slightly disappointing, and I knew that I had to get involved in something in order to grow. This led me to reach out to the SWATA Young Professionals' Committee. I emailed the chair at that time, and it was another God-given blessing that they had a task I could perform. They allowed me to give a presentation to WTAMU seniors about their transition to practice.
When I rolled off the committee, I knew I needed to continue to be involved. I also knew that I had to be sparing with my time since I now have a newborn daughter and a two-year-old at home with a wife who teaches in the same school district as me. Keeping all this in consideration, I opted to run for vice president of our regional association, West Texas Sports Medicine Society, and return to the state or national level once we get settled into being a family of four.
Tell us about your role as the Texas representative on the SWATA Young Professionals' Committee what you accomplished in this role.
I rolled off my role as SWATA Texas chair in July. During my tenure, though, my main objective was to reach as many graduating athletic training students to help them transition into their roles as young professionals.
I remember my first year and highly appreciated all the advice I received from current and newfound colleagues. I would not have survived had it not been for the help of my peers.
In my new role as vice president of the West Texas Sports Medicine Society, I have a vision to connect as many athletic trainers in our region to one another; provide a great networking and learning experience for all of us in our annual seminar; and to provide all athletic trainers with the greatest resources possible for them to thrive.
What is your favorite part about giving back to the profession?
I've always been taught to leave something better than how I found it. That is a large task, since the profession has been nothing but great to me – giving me amazing knowledge and skills to provide care for kids who might not have it otherwise; allowing me to meet amazing like-minded individuals pursuing excellence; and allowing me to learn so much leadership skills that have transitioned into both my personal and professional life.
There is always something to improve, and if we do not embrace that, then extinction is evident. We must never become content with what we are dealt, and giving back to the profession is that refreshment needed to change.
Why is representation important to leadership and how does it impact the profession?
"Be the person you needed when you were younger." This phrase is constant in my mind. Seeing people break barriers and become that which you aspire to be is the trickle effect we all need: similar to the first person who broke the sub-four minute mile, which gave inspiration for many runners to follow suit. When the next generation has even the tiniest visual of all that is possible, then we are sure to continue to grow. If we could all inspire one person, then we cause a trickle effect that leads into the future of athletic training.
Why is it important for ATs to get involved in leadership and service?
I believe it helps retention in the profession. When you are working toward solutions to problems, it gives you that bit of hope that we will continue to thrive and improve. When you talk about problems without offering solutions, then you are simply complaining. There are many ins and outs that are easy to overlook, and getting involved helps to understand these ins and outs and find different or better solutions. It is also important to remember that our profession was founded by volunteers who paved a way for us now, and we will need more volunteers to continue this path.
What would you say to the next generation of athletic trainers about the importance of giving back?
Be the change you want to see. You are a part of a wonderful profession – a profession full of wonderful human beings who deserve to be heard, who give so much of themselves to their patients with no expectation of receiving anything in return. To give back is to give these people a chance to continue to do what they love and cherish.
"Happiness doesn't result from what we get, but what we give." – Ben Carson