February 17, 2015 by
JordanG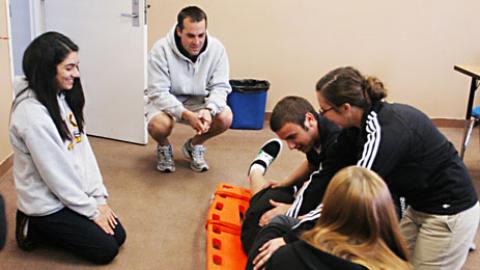 One of NATA's primary objectives is to provide top-notch professional development opportunities for our members. Anita James, NATA's Director of Knowledge Initiatives, oversees this department, and her team works in collaboration with several member committees to address issues related to AT education. Anita gave an overview of the group's current efforts and upcoming plans for 2015 to attendees at NATA's recent Joint Committee Meeting, and we have summarized her presentation below.
 
Supporting Education from A to Z
The NATA Knowledge Initiatives (KI) team works with the following member groups to support AT education at every level. The following diagram shows how the Executive Committee for Education member committees are aligned: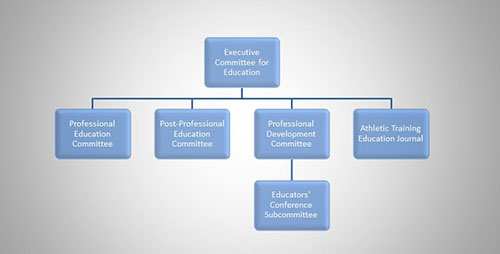 In addition to the committees shown, KI works with the Convention Program Committee, Free Communications Subcommittee and the Pronouncements Committee.  The KI team has established the following key initiatives for 2015:
 
Interprofessional Education
We recently launched the IPE interest group on LinkedIn, which is available to anyone interested in joining the conversation about Interprofessional Education.
 
Evidence-Based Practice
The NATA Quiz Center now offers 12.75 EBP CEUs, which is more than enough to satisfy the BOC requirement during this reporting year. NATA 2014 attendees received access to 4.5 free EBP home study courses (and those who didn't attend the convention are able to purchase these courses for a small fee). The KI team is continuing to build its EBP offerings and hopes to offer EBP webinars in 2015.
 
Learning Management System
The existing NATA Quiz Center has served us well, but it's time to upgrade to a better learning management system that will offer more convenient features for NATA members. NATA's Knowledge Initiatives is working with an outside vendor to build a system that can house all 120+ existing courses while leaving room to grow into new areas, including the ability to support the certificate programs that are currently in development. The goal is to provide a system that allow ATs to keep track of all CEUs earned in one place and links to the BOC's Professional Development Needs Assessment (PDNA) so ATs can better target their own learning needs.
 
Industry Happenings
Our team strives to stay on the pulse of what's happening in the learning industry so we can continue to provide innovative and effective learning opportunities. The following are just a few of the trends our team is seeing in educational delivery models.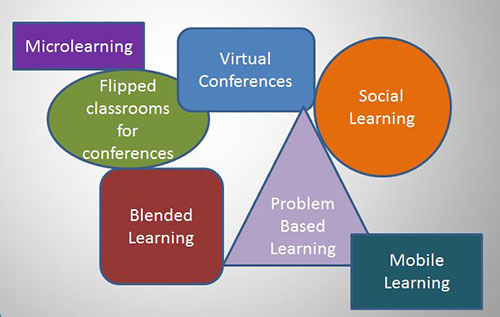 Degree Debate
We're continuing to keep a close eye on the degree debate. KI has been supporting ECE in conducting a lot of research related to the impact of changing the professional degree, and that data will be turned over to CAATE with a recommendation. Internally, we're trying to prepare for the next step by asking the question, "Once the degree decision is made – either way – what's next?" We're thinking through the potential impact on the profession and the association and planning ways to support those who would be directly affected by either decision.
 
Member Value
As always, the NATA Knowledge Initiatives team is looking for ways to enhance member value through better professional development opportunities. By working with the Convention Program Committee to implement new methods of delivering information at convention – grand rounds and problem based learning, for example – our team and the committees we support are always trying new innovations to enhance learning.
 
Fun Fact!
All NATA members receive 10 free CEUs each year. The value of those free CEUs used by NATA members to date is worth more than $4 million.


Posted by NATA Communications Manager Jordan Grantham (jordang@nata.org)