December 2, 2014 by
JordanG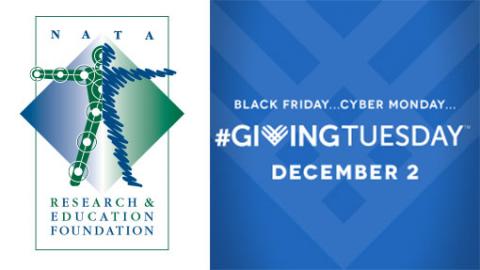 Thousands of people around the world are celebrating #GivingTuesday today, a global day dedicated to giving back. On Tuesday, December 2, 2014, charities, families, businesses, community centers, and students around the world will come together for one common purpose: to celebrate generosity and to give.

If you're in the giving spirit this holiday season, we ask that you consider donating to the NATA Research & Education Foundation during #GivingTuesday. Since the NATA Foundation's inception, it has awarded $2 million in undergraduate and graduate scholarships, enabling more than 1,000 outstanding AT students to advance their educations. The work doesn't stop after graduation, however; to date, the NATA Foundation has funded research grants totaling more than $3.1 million. Without research, the athletic training profession will not continue to advance. The NATA Foundation's work benefits EVERY athletic trainer and EVERY company associated with the profession, as well as the physically active community at large.

If you'd like to see where your donation would contribute, we invite you to view the NATA Research & Education's 2014 Annual Report. A huge THANK YOU to the more than 800 donors who contributed to the NATA Foundation in 2014. If you'd like to support schlarship and research in the athletic training profession as part of #GivingTuesday, it's as simple as visiting this online donation form.