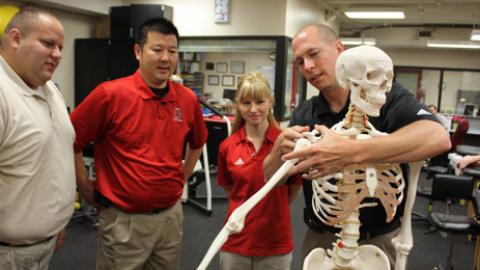 By Jeremy Hawkins, PhD, ATC, ATP Director, Colorado Mesa University

It is that time of the year when recent graduates, and some not-so-recent graduates, are finding out whether or not they passed their Board of Certification, Inc. examination.  Undoubtedly, for many, the taking of this exam marks the end of many late nights studying, long hours on the practice field working to perfect their craft, having to take numerous classes with varying levels of enthusiasm, and paying to practice athletic training and (hopefully) the beginning of getting paid to practice athletic training. 
 
I have spent over a decade in the profession, and I have noticed something very interesting with regard to this time of transition: Passing the exam can inflate and invigorate, while not passing the exam can deflate and discourage, even dishearten.  Let me illustrate. 

On one occasion, within an hour or so of each other, I had two students come to my office.  One had passed the exam and expressed their excitement by stating that they felt there wasn't anything they couldn't handle.  They were on top of the world.  The other student had not passed and voiced concern whether or not they could even competently work the baseball game they were scheduled to assist with later in the day.  Both students were good quality students that I had full confidence in, and still did.  So why could one feel like they could take on the world while the other wanted to be covered by it?  Three little letters – A, T, C. 
 
I am not qualified to go into the psychology behind these two different responses, but wish to provide those of you who may not have passed a bit of hope.  When I graduated from Brigham Young University in 2002, I did so at the top of my class. (At least that is how I remember it.) I was one of two students from my graduating class who took the exam "early," a practice that was not nearly as common then as it is now.  I was devastated to learn a short time later that I had failed, missing passing by one point.  I figured a scoring error had taken place, so I appealed the scoring.  Nope, still failed.  In appealing I missed out on the opportunity to take the exam in June and signed up for the August exam.  Once I again, I failed – this time by 16 points instead of one point!  I was getting worse (or so I thought). 
 
Thankfully, a short time later I began my employment at Western Oregon University as a graduate assistant working with a man I had/have immense respect for, Kurtis Kidd.  Kurtis suggested that I not worry about taking the exam in November, but instead continue to practice and take it in February with some more experience behind me.  Come February, with a few more months of full time, supervised experience, I passed easily.  I am thankful for the wisdom of a seasoned athletic trainer who knew I had it in me and passed that confidence on to me.  And, I think I have turned out OK.
 
So what was the difference for me, and how does this apply to you?  I have thought about that question quite a bit since then, particularly since I became an educator.  The confidence my mentor showed in me was a big factor.  Was I any different as a person before I took the exam the first time than I was after? Nope. I wasn't any different after I finally passed the exam either; I just had the credential to practice independently.  But I did believe in myself more the third go-around. I trusted the fact that I had been well educated. I had been taught all that I needed to have been taught to qualify to challenge the exam, just as you have. I just needed to demonstrate that, just as you do.

A second factor was continuing to practice athletic training.  Find a way to do the same, whether via the institution you have graduated from or through employment that will work with you under proper supervision and within state practice act guidelines.  Last of all, it might be helpful to think that you did not pass rather than that you failed. I know it is a small difference, but to me it has a different connotation. You are still you, the student who the day before the exam felt as though you knew what you were doing.  Don't let three little letters tell you otherwise. You are not a failure. You've got this! 
 
To those of you who have passed, and those of you who will next time, best of luck.  Now the real learning begins.


Posted by NATA News Editor-in-Chief Jordan Grantham (jordang@nata.org) on behalf of blog author Jeremy Hawkins, PhD, ATC. Interested in contributing to the blog? Email Jordan at  jordang@nata.org.