April 20, 2015 by
JordanG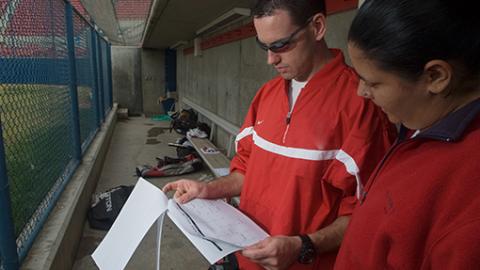 By George Wham, EdD, ATC, SCAT

Communication with parents is a key issue for the athletic trainer in the secondary school.  Whether it's information about the role of the athletic trainer and the services we provide, procedures when an injury occurs, educational information regarding common medical conditions in athletics or the dreaded mound of signed forms that must be collected – making sure parents and athletes get your message is vital to a successful athletic training program.

How do you relay this sort of information to parents? Several years ago I began developing our AT program's Pre-participation Packet for Athletics.  The packet is a collection of documents that are our AT program's effort to share important information with parents and collect information from parents in order to serve their athlete most efficiently.  Paper copies of the packet are placed in the school's front office and athletics office, but increasingly parents are accessing the packet electronically on the school's website.  Every year I tweak it a little as recommendations for best practices evolve and "little headaches" arise.  I keep a running list of revisions/additions for the next year. 

Our Pre-participation Packet for Athletics can be divided into four sections:
Introduction and Parent Letter

AT Staff and Team Physicians

Education on Key Medical Conditions

Forms

Introduction and Parent Letter
Our Pre-participation Packet for Athletics begins with a title page that provides an overview of the information in the packet, a table of contents, and a checklist for the forms that must be returned.  In order to address some of the most common misunderstandings when dealing with parents of athletes, I include a letter introducing myself, contact information, and my role as the head athletic trainer.  Also included in the letter is information regarding forms that must be completed before athletic participation, procedures for injured athletes, physician referrals, athletic accident insurance, and a little reminder for parents how to respond if their child is injured during a game (ie. – don't come running out on the field!)  In short, this parent letter is my attempt to head-off the most common problems that I've encountered as an AT in the secondary setting.  Needless to say, it is always a work in progress.

AT Staff and Team Physicians
Often times a parent may not know who/what an athletic trainer is, until his or her child is injured leading to misunderstandings and lots of frustration for the AT.  In an effort to educate our parents on the credentials and competence of the healthcare professionals caring for their child before an incident occurs, I have included a couple of pages in the Pre-participation Packet to introduce our AT staff and team physicians.  One page includes headshots and bios for me and our 2 assistant AT's.  A second page identifies the team physicians, location of their offices, and contact information.  Hopefully, these documents provide parents the opportunity to get to know us before an incident occurs and builds confidence that their child is in good hands.

Education on Key Medical Conditions
As a result of NCAA mandates and state concussion laws, concussion education has become an important part of the standard of care.  In addition to adopting an education handout on concussion for our parents and athletes to review prior to participation, our AT program has extended our education effort to other key medical conditions that deserve parent/athlete attention as well.  Initially, educational handouts on heat illness, MRSA, and proper tackling technique (for football) were included in our Pre-participation Packet.  Since then we have added handouts on Herpes gladiatorum, sickle cell trait, information how a parent can obtain their athlete's sickle cell status from the state department of health, and a flow chart diagraming our program's concussion management protocol. For the upcoming year I plan to add a handout on sudden cardiac death and a low cost opportunity for their athlete to get an echocardiogram in our community.  Parents must sign a statement confirming they (and their athlete) have read/understand these educational handouts and their duty to report signs/symptoms to the AT as soon as possible.

Forms
The final portion of the packet includes forms that parents must review, sign, and return.  These documents include the SC High School League Parent Permission/Acknowledgement of Risk Form and the Sports Physical Form adopted by the AMFP, AAP, ACSM, AMSSM, AOSSM, and AOASM in 2010.  Additionally, our AT program has created a document called our "Sports Health Form" that includes: emergency contact information, health insurance information, information regarding the school's athletic accident insurance policy, acknowledgement of risk, duty to report injury, consent to treat, and consent to release information.  I always put these documents at the back of the packet in hopes that parents are who flipping to find these required forms are at least exposed to the rest of the information. 

Take Home Message
Our Pre-participation Packet for Athletics has been a good vehicle for our AT program to address many of the frustrating communication issues with our parents and provides a great educational opportunity for our athletes.  While a living document that is ever-evolving, it has proven to be a good addition to our AT program in providing quality care for our athletes.  I encourage you to consider adopting something similar for your program! 

About the Author:
George Wham, EdD, ATC, SCAT, is a member of the NATA Secondary School Athletic Trainers' Committee. He is the Pelion High School in Lexington, South Carolina.