August 21, 2014 by
JordanG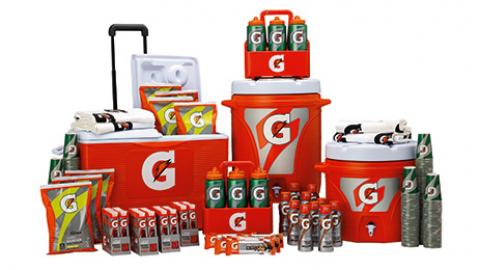 The Gatorade Company has been a proud partner of NATA for 30 years and during this tenure has worked closely with athletic trainers in the secondary school setting to help ensure athletes receive the highest-quality care.  This commitment is driven by the company's belief that athletic trainers are critical to the health and safety of high school athletes and that their importance is often overlooked.
 
"We know athletic trainers are at the forefront of sports medicine and key contributors to athlete safety, but we also know not everyone is aware of athletic trainers many contributions, particularly at the secondary school level," said Jeff Kearney, Senior Director, Sports Marketing, The Gatorade Company.  "With the help of NATA, we hope to raise awareness and elevate the profile of secondary school athletic trainers."
 
To accomplish this, Gatorade and NATA are working on a number of initiatives, including the reinstatement of The Gatorade Secondary School Athletic Trainer Award.
 
The Gatorade Secondary School Athletic Trainer Award recognizes a certified athletic trainer from each NATA district who has made outstanding contributions in furthering their high school's athletic care program or the overall profession of secondary school athletic training.  Each winner will receive a $1,000 grant toward the program featured in their submission; a Gatorade G Series Performance package – which includes everything from coolers and squeeze bottles to product and towels, a Sidelines Cart – that will help give teams' sidelines a professional look – and an all-expense-paid trip to the 2015 NATA Clinical Symposia & AT Expo.
 
"Secondary school athletic trainers are often the unsung heroes of the athletic departments – something I am dedicated to changing," said Larry Cooper, MS, ATC, LAT,  current chair of the NATA Secondary School Athletic Trainers' Committee.  "I believe that this award is one important way we can help elevate their role, and I am grateful to Gatorade for providing this opportunity."
 
Applicants for The Gatorade Secondary School Athletic Trainer Award cannot be self-nominated and must be active certified athletic trainers, current NATA members, have an NPI number, be BOC certified and work as a full-time or part-time employee in the secondary schools.  For all the details on how to apply and deadlines, visit the NATA website at http://nata.org/Gatorade-Secondary-School-AT-Award. Winners will be announced at each of the district meetings, culminating in a grand celebration at NATA 2015.