August 4, 2014 by
JordanG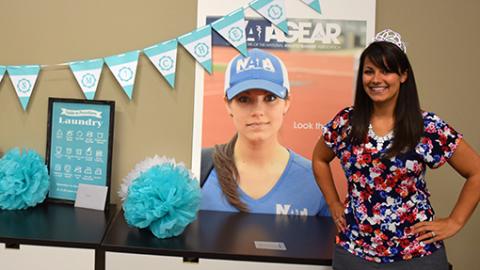 NATA's first-ever AT-in-Residence Michelle Vryhof, MA, ATC, LAT, has completed her year with NATA and is moving on to become an athletic trainer at Chisholm Trail High School in Fort Worth, Texas. Michelle was an incredible asset to our organization and will be greatly missed, although she will remain very involved as a volunteer. We threw the future Mrs. Holt (she's getting married in December!) a bridal shower/going away party, and afterward she took some time to reflect on her experience at NATA.


What did you gain from your experience at NATA's first AT-in-Residence?
I gained much more than I could have imagined going into the position less than a year ago. I only hope that I was able to give to NATA just as much as I took away from this experience. The behind-the-scenes exposure gave me a really unique perspective and awareness of issues surrounding athletic training. I also reaped the benefits of a strong professional network, broad administrative abilities, confidence, speaking skills and leadership strengths.

What was the most surprising aspect of the job?
The most surprising aspect was what sorts of things can evolve from having the willingness and open mind to accept challenges or even seemingly simple tasks that are out of your comfort zone. Also, when you are passionate about what you are doing, even sitting at a computer all day becomes a small sacrifice for the greater purpose. It is very exciting to be involved in so many different projects!

How did it change your perspective on the association and profession as a whole?
When it comes to most things concerning our association and profession, there is a whole lot more to it than what it seems. There are so many, many great things happening that it can be hard to keep up even when you're working full time in the office. I have new level of appreciation for our headquarters staff and for leadership and volunteerism. It can be complex to understand how things work in an association, but to increase your awareness better equips you to contribute positively.

 Are you leaving with an increased passion for volunteerism, etc?
This position has been life changing. Being in the company of such an amazing group of leaders and staff has been overwhelmingly inspirational. Witnessing things happen is encouraging, even though it is a grind and it takes time for us to reach certain goals. That is why this experience gives such a deep appreciation for volunteerism. This role has prepared me well for a life-time of future service and I hope it continues to do so for the future AT residents at NATA.

How did the NATA role help you expand your professional network?
I think this position had a significant role in my new career opportunity because of the network of support that has grown from my interactions at NATA. I have been blessed to be able to work with many outstanding leaders and demonstrate my abilities as a professional in a variety of ways. This has helped me build relationships and has opened doors to move forward, now returning to work in the field.
 
What advice do you have for the next AT-in-Residence?
Take advantage of everything that you can be a part of here at NATA. Stay positive, and look at the big picture. Accept challenges or even simple tasks with enthusiasm and determination because you never know where it will lead you and who you might have the fortune to know along the way.

What would you want other ATs and NATA members to know now that you've served in this role?
I want them to know that it has been such an honor to serve our association in this role and contribute in some small, some significant ways to the efforts of staff and volunteers. Having an AT in our national office is a great thing. As a member, never be afraid to share your opinion because it does matter, At the same time, don't forget to consider all the great things our association is doing to benefit our profession as a whole and why it is important to be involved. Please continue to support and represent our profession positively, in any way you can.

Posted by NATA News Editor-in-Chief Jordan Grantham (jordang@nata.org). If you're interested in contributing to the NATA Now blog, shoot me an email!