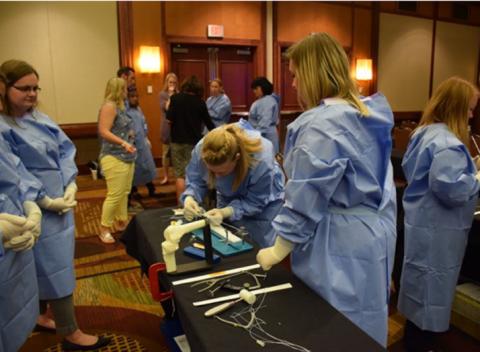 By Todd Christman
On June 22, the Career Development Pre-Conference Career Workshops helped kick off the academic programming for the 67th NATA Clinical Symposia and AT Expo. The all-day event, hosted by the Committee on Practice Advancement and Ossur, started at 7:45 a.m.
The day was split into two sections, with the morning sessions offering informational lectures focused on the athletic trainer in physician practice. Registrants could select one of two tracks for the lectures, introduction or advanced. Both tracks provided a number of speakers delineating information on a variety of topics related to physician practice.
Some of the topics covered in the introduction track included residency programs, the role of ATs in improving efficiency in the primary care setting, the Orthopaedic Technologist (OTC) credential and the AT's role in a multidisciplinary concussion program.
The advanced track saw topics such as optimizing the AT's role in the ACO model, ATs in the rural family practice setting and patient reported outcome measures.
After a mid-day break, the attendees reconvened for the second section of the workshops, breakout sessions that featured hands on learning.  Each of the sessions featured a lecture and demonstration before the attendees were given the opportunity to try the techniques themselves.
The hands on session topics were casting, radiology and surgical first assist, graft prep for ACL reconstruction.
In the casting workshop the attendees were given the opportunity to try out two different styles. They were shown how to do a short arm cast and thumb spica cast.
In addition to the hands on sessions, the workshops featured a performing arts component in the afternoon. Over the course of four hours attendees were able to hear lectures on various aspects of the job setting. Some of the topics covered by the speakers were developing a performing arts medicine practice, worker's compensation in the performing arts, and an overview of alternative treatments for performing artists.