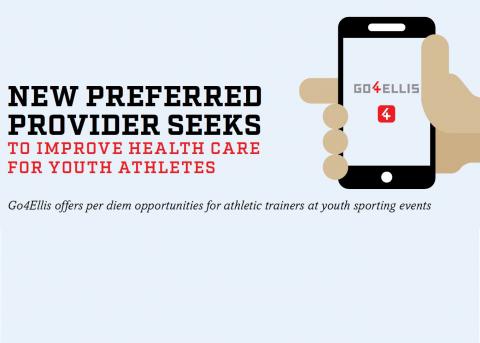 NATA welcomes its newest Preferred Provider Go4Ellis, a mobile platform created by NXTsports to improve youth sports safety by making it easier to directly connect athletic trainers with per diem opportunities at youth sporting events. This app allows event operators or anyone looking for an athletic trainer to provide on-site health care during a game, practice or tournament to post the event details to the platform. ATs can search the available per diem opportunities and pick those that suit their availability.
Designed to simplify the process of connecting ATs with those who need them, the overall goal of the partnership between NATA and Go4Ellis is to improve the safety of youth sports while providing more employment opportunities for athletic trainers. The app emphasizes flexibility, allowing athletic trainers to pick up per diem work when they can, and its user-friendly dashboard allows ATs to track earnings, view new job opportunities and communicate directly with event organizers. Go4Ellis was approved by the NATA Board of Directors as a Preferred Provider in December.
The app's focus on youth sports was a natural partnership for NATA, further adding to the existing NATA initiatives focused on youth sports safety. "The Go4Ellis app reflects our shared goal: better health care for youth athletes," said NATA President Scott Sailor, EdD, ATC. "There should be an athletic trainer at every youth sports practice and competition. We want parents to consider athletic trainers as an integral part of youth sporting events. The Go4Ellis app is an innovative and simple way to connect event operators to athletic trainers, and reinforces the association's longstanding commitment to best practices."
Go4Ellis is the brainchild of NXTsports, a youth sports education and event management company based out of Philadelphia that specializes in youth lacrosse events. The company has now grown to include educational programming and skill development training for athletes four to 18 years old who play lacrosse, football, basketball, soccer and field hockey. NXTsports operates more than 40 large youth sporting events across the nation annually.
NXTsports has placed an emphasis on athlete safety from its inception and is a member of the Youth Sports Safety Alliance. Every NXT event is staffed by athletic trainers, which is how they discovered there was a significant need for an easier way to find athletic trainers to provide health care for youth sporting events.
Ellis Mair, EdM, ATC, the director of participant health and safety for NXTsports, oversees the NXT Safety Initiative and coordinates medical staffing for all NXT programming. After creating their app to find ATs for NXT events, the NXT team named the platform Go4Ellis after Mair's habit of answering the phone with the greeting, "Go for Ellis."
It was NATA's District Two Director A.J. Duffy, III, MS, ATC, PT, who heard about the Go4Ellis app and recognized its potential to be expanded into a nationwide effort to benefit the athletic training profession. Duffy connected the Go4Ellis team with NATA's leadership, and an impactful collaboration was born. In December 2016, the NATA Board of Directors approved the partnership to make Go4Ellis the exclusive per diem employment AT app and platform for NATA members.
NXTsports is continuing to refine the app to suit the needs of athletic trainers in different regions, but you can already download it by searching "Go4Ellis" in the App Store.
View a full list of NATA's Preferred Providers.
Read the press release.