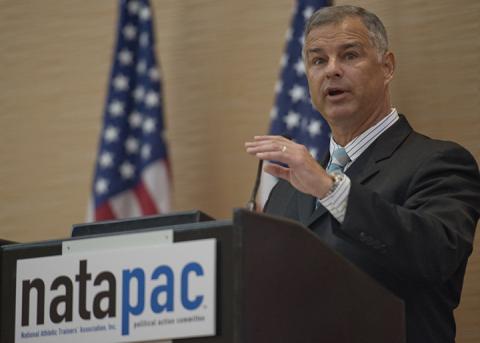 By Beth Sitzler
As Kansas City Chiefs Head Athletic Trainer Rick Burkholder, MS, ATC, addressed the NATAPAC Breakfast crowd Thursday, June 23, his message was clear: "You are all leaders in this profession. People are looking to us for direction. We must come through as leaders."
Burkholder, president of the Professional Football Athletic Trainers Society, spoke to the audience about leadership and the impact those willing to lead can have on the athletic training profession.
"Almost every single successful person believes two things: one, that the future can be better than the present, and, two, that I can make it so," he said. "We all must believe that since we're here."
Burkholder spoke to the audience about "the wave," invented by "Krazy" George Henderson in 1981 during the Oakland Athletics American League Championship Series game against the New York Yankees.
"How hard it was to start 'the wave' in 1981?" Burkholder asked. "Krazy George was able to connect to his audience and held their attention without technological influence.
"Somehow our past leaders – and our present leaders – found a way to capture the attention and enthusiasm of their audience."
Through this leadership, athletic trainers have become part of the fabric of sports and sports medicine and are at the forefront of athlete and injury management. The profession and NATA have done a great job with its "domestic policy," such as improvements to education and increases to standards.
"There is no better time than now to be an athletic trainer," he said.
Despite these achievements, Burkholder said "it's time to start the next wave." He said this should be done by improving the profession's "foreign policy" – those relationships outside of athletic training.
"We need to move forward and tell the world who we are and what we do," he said, explaining that often times there is a misconception about the role and responsibilities of athletic trainers. "The ultimate end user of an athletic trainer's care might not know what they do – and if they don't know about us, who does? … We need to tell our story to the world every chance we get. We need to show what we can do."
By self-advocating, athletic trainers can also educate others on what makes the profession unique and unlike other medical disciplines.
"People want a piece of what we do," Burkholder said. "They want to be on the sidelines. They find out what we do, but what's different for us is how we do it. We need to let the world know that we're premier health care providers. We need to show them how we handle our business."   
Burkholder said one of the most important problems facing the profession is its image. As elite health care providers, athletic trainers should be treated as such and never referred to as "tapers," or in another way that diminished their value.
As president of PFATS, Burkholder said he emphasizes problem solving and being team oriented. This can especially be seen in his work to increase the number of women athletic trainers in the National Football League.
"In 2013, there was one female athletic trainer in the National Football League," he said, adding that this didn't reflect NATA membership, which is 54 percent female, or the number of athletic training students, a high percentage of which are female. "One in four athletic training students is female. By not allowing women athletic training interns, we're losing out on future professionals."
He encouraged audience members to be fearless and think outside the box. He also encouraged them to look beyond their own needs and to the needs of the profession. One way Burkholder helped the NFL address this issue was through the creation of a $32,000 scholarship for women athletic training interns. The scholarship is similar to one created by Ronnie Barnes, ATC, with the New York Giants, to grow the league's minority athletic training intern population.
"Now, we have five full-time women athletic trainers," he said, adding that 16 teams will train 22 women athletic trainers this summer.
Burkholder said he views the scholarship and the acceptance of women athletic trainers by the NFL as an insurance policy for the profession, game and league that he loved.
"I want to leave it in better shape when I leave," he said.