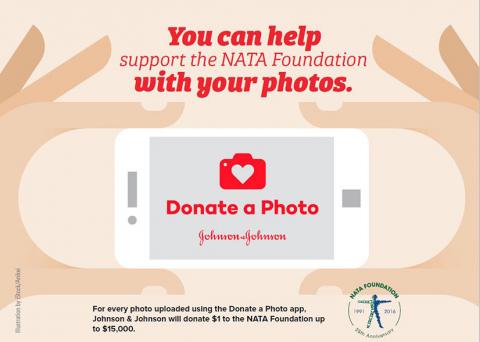 The next time you snap a selfie, photograph a sunset or conduct an impromptu photoshoot of your lunch, use that image to raise funds for the NATA Research & Education Foundation. Thanks to the Donate a Photo app, for each snapshot you upload to the app from now through July 31, Johnson & Johnson will donate $1 (up to $15,000), to the NATA Foundation.
The Donate a Photo campaign is a J&J corporate initiative created by Pam Edels to support various worthy causes.
"J&J, as a corporation, has a huge commitment to good works and philanthropy and supporting the community. It seemed like a natural for us," said Jack Weakley with J&J.
When the NATA Foundation was approached with the idea, NATA Foundation Director Shelley Tims said they jumped at the opportunity to participate in the interactive fundraising campaign.
"My first thought when we were approached with the idea was how extremely fortunate the NATA Foundation is to have a champion in Jack Weakley. He was the catalyst for this opportunity with J&J," Tims said. "I also thought that this was a wonderful opportunity for all of our membership to be able to support the NATA Foundation."
To participate, download the Donate a Photo app from the App Store or Google Play and select the NATA Foundation as the cause you'd like to help. Next, simply take a photo or use one from your phone and share it. J&J will then donate $1 to the NATA Foundation. Participants can upload one photo per day throughout the campaign.
"We want everyone participate and get involved with the NATA Foundation," he said. "And we're hopeful that the money raised will go through and help with the NATA's effort with youth sports."
"The NATA Foundation's work benefits every AT and every company associated with the profession as well as the physically active community at large," Tims said. "As the only 501c(3) nonprofit dedicated to advancing the athletic training profession through research and education, the impact of this donation will allow us to look at specific projects, specifically those related to youth sports."
In addition to raising funds for the NATA Foundation, participants of the Donate a Photo campaign have the chance to share moments of their lives with fellow athletic trainers and supporters throughout the country.
"This campaign is a great way for us to connect with the NATA membership and allow each and every one of our members to feel connected to what we do and to make an impact on our future," Tims said.
For more information, visit the Donate a Photo website.