August 17, 2020 by
Elizabeth Quinn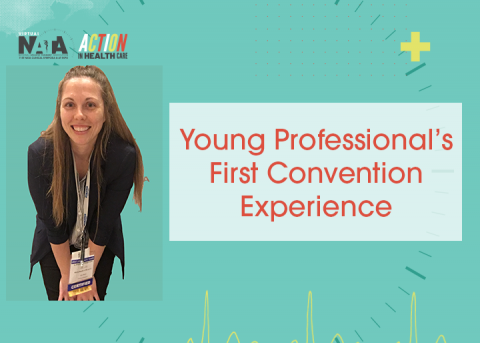 Editor's note: NATA reached out to athletic trainers who participated in the 2020 NATA Virtual Clinical Symposia & AT Expo to learn about their experiences for a blog series called My VNATA Experience. If you would like to share your thoughts on VNATA 2020 as well, email marketing@nata.org.
Lindsey Rozinski, LAT, ATC, is a young professional who has not previously attended the NATA Clinical Symposia & AT Expo. Rozinski, an athletic trainer in the secondary school setting from District Four, said she attended the 2020 NATA Virtual Clinical Symposia & AT Expo because it featured a strong lineup of sports medicine scientists, researchers and authors – who she regularly follows – presenting on some truly relevant topics. She discussed why she attended VNATA 2020, her favorite part and more.
Learn more about VNATA 2020 on the convention website. While the live event has ended, registration is still open throughout the entire on-demand period, which ends Sept. 10.
Why did you decide to attend the 2020 NATA Virtual Clinical Symposia & AT Expo?
The fact that I did not have to make a choice between sessions was a benefit. I was able to capture the opportunity to listen to every lecture that interested me with the on-demand feature. There was no decision to choose between one session or another.
What was your favorite part of VNATA 2020?
The State of the Association address was my favorite. It was a good reminder of our shared common values as a membership – advocacy, engagement, development – and why we all take pride as NATA members.
However, it was also a call to action because, as an association, there are still milestones we are working to achieve. No one does a better job of keeping the membership engaged and motivated than President Tory Lindley, MA, ATC.
What new knowledge/takeaway from VNATA 2020 will you use in your daily practice?
From my own personal experience, data collection is one of the skills in athletic training that is rather elusive for the practicing athletic trainer. The evidence-based practice session, "Got Data? Using Patient Care Documentation to Drive Clinical Decisions and Improve Care," by Kenneth Lam, ScD, ATC, opened a lot of doors that will allow me to take my data collection to the next level. Lam was intuitive about what the obstacles are surrounding data collection for athletic trainers and provided a roadmap to be able to get over those first few hurdles. Data collection was presented in a way that was attainable for the practicing athletic trainer.
Heading into the fall season, even amidst this public health pandemic, the "Evidence-Based Practice in Prehospital Care of the Spine-Injured Athlete in American Football: The Delphi Process Part One-Spine Injury in Sport Group" was a relevant and timely session. The session was a panel discussion that showcased the amount of effort and consideration that went in to creating this applicable document published in the June Journal of Athletic Training. The document reinforces the invitation for additional health care professionals who will be involved in the care of the spine-injured athlete to be a part of the planning and training. The VNATA 2020 session presented an insightful view into the voices of those additional health care professionals who are critical players in spine-injured care management.
Why would you recommend VNATA 2020 to your fellow ATs?
For the membership, it is a no-brainer considering the value for the cost effectiveness; however, for someone who is paying the full nonmembership price, I would say there is not another online CEU opportunity out there that will be able to provide the multitude of AT-specific content that can be applied to your practice immediately after having received the education. Regardless of how reputable another online CEU provider is, you are not going to be able to find another that is as comprehensive to the AT as VNATA 2020.
Is there anything else you'd like to tell us about your VNATA 2020 experience?
I have been enjoying the rapid fire and oral Free Communications presentations. I don't believe that if I would have attended an in-person NATA convention that these types of presentations would have been at the top of my list as a must-see session, so I am happy that VNATA 2020 has given me the opportunity to experience this type of unique presentation. I am more likely to attend this type of presentation in the future at in-person conventions because of my positive experience with the presentations at VNATA 2020.