August 30, 2021 by
Elizabeth Quinn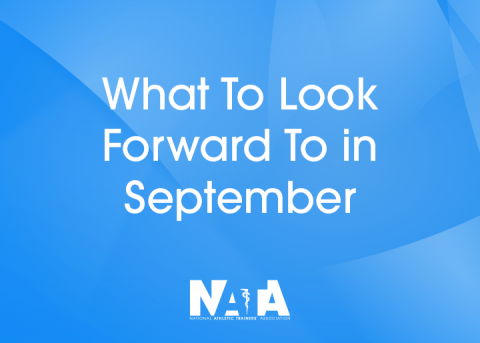 There is a lot happening at NATA! Stay up to date on what's to come each month in advocacy, engagement and development in this NATA Now blog series. Check out what is in store for September, and follow our communication channels throughout the month for more information.
Advocacy
A tip from the NATA Government Affairs Department for September: Invite legislators to a sporting event. Ask them to shadow you during a game to see first-hand what ATs do. For more advocacy tips and information, visit the NATA advocacy webpage.
In the August/September NATA News, available online later this week, the At Your Own Risk Value of the Athletic Trainer Series focuses on junior colleges. This handout series highlights the important work ATs do in their respective setting and can be used to educate members of the public.
Engagement
The August/September NATA News' featured article looks back on the 2021 NATA Virtual Clinical Symposia & AT Expo. The article highlights members who participated in the virtual platform's photo booth as well as 10 things not to miss during VNATA 2021, statistics from VNATA 2021 and members share their takeaways. Don't forget, there's still time to register for VNATA 2021 before it comes to an end Sept. 30.
The monthly Built for This article series in the August/September NATA News features David Silverstein, MEd, ATC, an AT who saved a Shaw High School in Cleveland, Ohio, athlete from sudden cardiac arrest. Silverstein used his Domain Three skills, immediate and emergency action, to jump into action. Reach more about his quick thinking and the importance of emergency action plans in the magazine.
Are you ready to test your knowledge? It's athletic training student against athletic training student as participants across the country play each other in a friendly Kahoot! competition. Join, compete or just watch the action during the NATA Student Leadership Committee's Trivia Takeover  Sept. 15. There will be two sessions: the first held at 5 p.m. CDT and the second at 7 p.m. CDT.
Development
The 2021 NATA Virtual Clinical Symposia & AT Expo continues through Sept. 30, giving attendees the opportunity to earn up to 25 CEUs in total, including 7.5 EBP CEUs. Along with the more than 70 exclusive educational sessions available on-demand, the AT Expo and the platform's numerous live networking features remain accessible to attendees. Register now to ensure you have time to view all the sessions you want at your own pace before the content becomes unavailable.
The NATA Ethnic Diversity Advisory Committee offers Diversity Enhancement Grants of up to $5,000 to educational institutions to support the advancement of diversity within the athletic training profession. Grant applications are currently being accepted for the 2021 grant cycle and are due Oct. 1. For more information, including requirements and the grant application, visit the Diversity Enhancement Grant webpage.
Each year, the NATA Research & Education Foundation recognizes those who excel in areas of research. Sept. 1-Oct. 1 the NATA Foundation will be issuing a call for nominations for the 2022 research awards: Medal for Distinguished Athletic Training Research, New Investigator Award and the David H. Perrin Doctoral Dissertation Award. Nominations should be emailed to the NATA Foundation at fndnstaff@nata.org.
The NATA Foundation Free Communications Committee will pilot test reviewing and accepting a limited number of critically appraised topic abstracts. The call for abstracts for the 2022 NATA Clinical Symposia & AT Expo in Philadelphia is Sept. 15- Nov. 1. The mission of the NATA Foundation Free Communications Program is to advance the discovery, dissemination and application of scientific knowledge in athletic training domains through written and oral forums.
The NATA Foundation is seeking to fill open positions on its board of directors with terms beginning June 2022. The application packet and details will be announced on the NATA Foundation's social media channels (Facebook, Instagram and Twitter) and posted on the NATA Foundation website Sept. 7, and will close Oct. 5. The current openings are:

District Two chair
District Four chair
District Six chair
Vice president Education & Professional Development Programs (incumbent is eligible to be reelected for a second term)
District Three chair (incumbent is eligible to be reelected for a second term)

The NATA Foundation depends on various committees to ensure that the mission of the organization is carried out. There are multiple committees seeking members, and the information will be posted Sept. 1. Find the information, and the list of openings, on the NATA Foundation's website.

Educational Resources Committee member (term beginning fall 2021)
Free Communications Committee member (term beginning June 2022)
Pronouncements Committee member (term beginning June 2022)
Student Writing Committee chair (term start June 2022)
Student Writing Committee members (multiple vacancies, term start June 2022)

The NATA Council on Practice Advancement has multiple committees with open representative positions that members can apply for on Gather. For more information about requirements for these openings, visit Gather and click on the Participate tab, then Volunteer and Immersion Opportunities. The following committees have openings:

Community Outreach Committee
Occupational Needs Committee
Physician Practice Committee
Public Safety Committee
Analytics and Outcomes Committee
Rehabilitation Committee

The NATA Government Affairs Committee will present a series of three interactive webinars during which attendees will learn and practice the basics of legislative and professional advocacy. The webinars will be held at 2 p.m. CDT the first Wednesday in September, October and November. The first presentation is Sept. 1 and is titled "Legislators Demystified: Communicating AT Value." Read descriptions of all three sessions on the NATA Now blog. 
Join NATA for September's NATA Timely Topics Series event, "The AT and Research & Education," hosted by the NATA Research & Education Foundation. The series starts at 11 a.m. CDT on Sept. 15-16 and 11 a.m. CDT Sept. 22-23. The NATA Timely Topics Series is free to members and $45 per event for nonmembers. Find more information, such as the topics and speakers, on the NATA Timely Topics Series webpage.
A new webinar, "Practical Fueling for the High School Athlete," will introduce key fueling challenges, such as skipping breakfast, omitting pre-fuel, ignoring signs and symptoms of inadequate fueling and hydration and not taking proper precautions with dietary supplements. The webinar is at 11 a.m. Sept. 22. It is free to members and $25 for nonmembers.