August 30, 2021 by
Todd Christman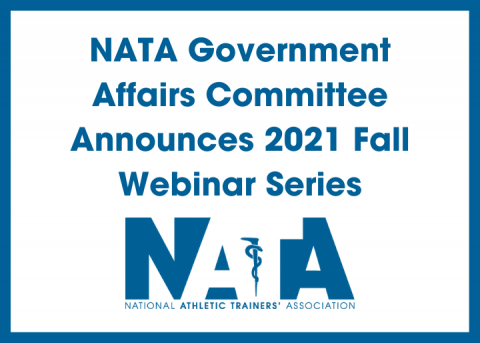 Looking to improve your professional and legislative advocacy tactics? This series is for you. The NATA Government Affairs Committee will present a series of three interactive events where attendees will learn and practice the basics of legislative and professional advocacy. Events will be held at 2 p.m. CDT on the first Wednesday in September, October and November.
Sept. 1
Legislators Demystified: Communicating AT Value
Jerry Krummel, MAT, LAT, ATC, District Seven NATA GAC Representative and former member of the Oregon State House of Representatives from the 26th District will describe how to communicate with a legislator from a legislator's perspective. Participants will have the opportunity to walk through three current legislative scenarios and tackle tough conversations advocating for athletic training with a legislator. Jerry will provide feedback and guide discussion around the effectiveness of various approaches.
Oct. 6
Day to Day Advocacy
District Ten NATA GAC Representative alum Lynne Young, MEd, LAT, ATC, walks attendees through the creation of a five-minute "elevator speech" to prepare ATs for effective conversations with the public. After discussing a few common scenarios, participants will have an opportunity to practice their day-to-day advocacy through role play. Everyone you meet has potential as an AT advocate!
Nov. 3
The Final Preparation: Handling Pressure in the Hot Seat
District Six NATA GAC Representative Adam Annaccone, EdD, LAT, ATC, helps us handle the tough questions surrounding regulatory practices in athletic training:  "Why are ATs actively expanding their scope of practice?"…"What qualifies ATs to treat patient populations outside of athletics?"…."How is an AT different than a PT?" Participants will review and discuss scenarios prior to being placed in the hot seat to practice their answers live.
The link to attend all the webinars is https://nata.zoom.us/j/2791359905.