October 26, 2020 by
Elizabeth Quinn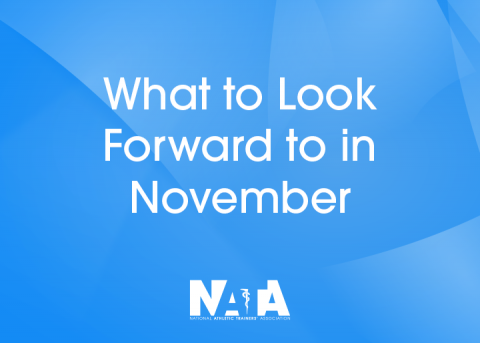 There is a lot happening at NATA! Stay up to date on what's to come each month in advocacy, engagement and development in this new NATA Now blog series.
Watch NATA President Tory Lindley, MA, ATC, speak about NATA's very first Member Appreciation Week happening this November.
While members can renew their NATA membership for 2021 at any time, membership renewal season officially began Oct. 1. Renew your NATA membership before Dec. 31 to take advantage of valuable, member-only benefits that assist with professional growth, connection, support and advocacy.
Stay tuned throughout the fall to see how NATA is celebrating and supporting its members. Learn more and renew on the NATA website.
Check out what else is in store for November, and follow our communication channels throughout the month for more information!
Advocacy
NATA is looking for athletic trainers to feature in our marketing and communications efforts. We know that you perform so many tasks and duties as part of your every day job, especially now in the midst of the COVID-19 pandemic. Help us share what you do on a daily basis by submitting your photos to be featured in our #ATsinAction campaign. ATs in Action authentically depicts ATs doing what you do best – providing exceptional health care to a diverse patient population in a variety of settings. We are actively seeking diversity in athletic trainers, patients, settings and activities as well as photos that properly illustrate social distancing and PPE usage. Help us tell your story. Show us how you impact health care by contributing your images today.
This holiday season, consider making a gift to support the NATA Education & Research Foundation through the Health for the Holidays campaign. Every dollar donated will be put to work to advance the athletic training profession through research, education and professional development. You have the opportunity to send a personalized e-card to friends and family when you make a gift in their name. This is especially convenient when trying to find a gift for someone who "already has everything they need." You can also make a gift as a memorial honoring someone who has passed. The NATA Foundation requests a donation of $10 per e-card sent, and you can request Health for the Holidays e-cards starting mid-November until the end of the year. For more information, visit the NATA Foundation's website.
In the November NATA News, the article "Prepping for the 2021 Legislative Session" discusses everything an AT needs to know when getting ready to advocate for the profession with local lawmakers. Also included is a list of items for a legislative toolbox that can address multiple legislative advocacy needs.
Engagement
This year, NATA is hosting the first-ever Member Appreciation Week Nov. 16-20. The week will be filled with free member-only resources, events and giveaways from NATA. In the midst of so much uncertainty and stress, NATA wants its members to know just how much they are appreciated. Look out for more information about Membership Appreciation Week on NATA's social channels.
The deadline to complete the NATA Communication Survey is Nov. 5. Take a moment and fill out the survey, which was emailed to members Oct. 22, as your feedback is important to us.
The November NATA News, available online the beginning of November, is dedicated to cultural competency. Topics covered in this issue include disability terminology and microagressions. Readers can also learn more about the NATA Ethnic Diversity Advisory Committee's efforts to advance ethnic diversity in the profession through its Diversity Enhancement Grant, support future leaders and advocate for all ethnically diverse athletic trainers and patients. This issue also features resources to help ATs address burnout and insight into NATA's secondary school advocacy letter program from NATA President Tory Lindley, MA, ATC.
Students: Apply for NATA Student Leadership Committee, which is seeking applicants for multiple positions on the 2021-22 committee. If you are interested in representing your district, you are encouraged to apply on Gather. Applications will be accepted through Nov. 20.
Development
The Free Communications Program is accepting abstracts for 2021 through Nov. 1. For more information, visit the NATA Research & Education Foundation website and read the October NATA News.
The NATA Foundation Research Grants Program is now accepting preproposal submissions through Nov. 15. Preproposals are required for anyone interested in submitting a full proposal in the Professional Grants Program; however, this is not required for student grants.
The NATA Professional Development Center has a plethora of courses that can be taken in November.

Risk Management & Emergency & Crisis Preparedness in Sports Medicine
Peer-to-Peer Support Following a Crisis
Opioids and Our Patients: What an Athletic Trainer Needs to Know