May 24, 2021 by
Elizabeth Quinn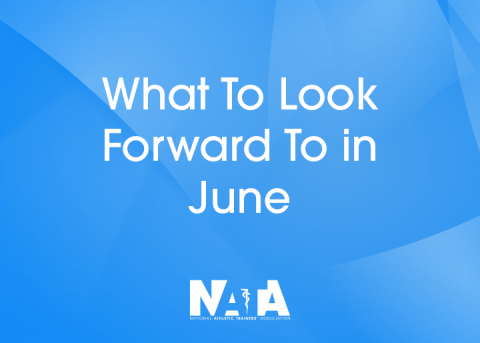 What to Look Forward to in June from National Athletic Trainers' Assn on Vimeo.
There is a lot happening at NATA! Stay up to date on what's to come each month in advocacy, engagement and development in this NATA Now blog series. Check out what else is in store for June, and follow our communication channels throughout the month for more information!
Watch the accompanying video as NATA President Tory Lindley, MA, ATC, discusses the NATA Virtual Clinical Symposia & AT Expo and encourages members to register.  
Advocacy
A tip from the NATA Government Affairs Department for June: Twitter Tuesdays! Tweet about ATs in action every Tuesday in June and tag legislators who represent the districts where those ATs live and work. For more advocacy tips and information, visit the NATA advocacy webpage.
In the June NATA News, the At Your Own Risk Value of the Athletic Trainer Series focuses on community outreach. The resource discusses how the community outreach program is an employment model designed to meet a diverse patient population as well as how community outreach programs fit into the five domains of athletic training.
The NATA Research & Education Foundation's Silent Auction has grown to be one of their largest fundraising events of the year. Due to the COVD-19 pandemic and events being canceled during the summer of 2020, the NATA Foundation was unable to host the 2020 auction in Atlanta. This resulted in donations normally depended on being lost for 2020, meaning the NATA Foundation needs help more than ever in 2021! In order to ensure the auction continues to raise significant funds to advance the athletic training profession, visit the virtual auction June 1-30. Bid often on great items, such as autographed memorabilia, apparel, textbooks, unique items and more. The direct link to the auction and instructions how to use the online auction platform, HandBid, can be found on the NATA Foundation website. The Korey Stringer Institute is the 2021 silent auction's presenting sponsor.
Engagement
The June NATA News' featured article, "Tiny Details, Big Impact," discusses how ATs can address the shared and individual health care needs of basketball players and ballet dancers. Other articles in this issue includes a preview of VNATA 2021, new documents on heat illness and a look into how "healthy" the new energy drinks truly are.
The monthly Built for This article series in the June NATA News features Master Police Officer Scott Bates and Anna Sedory, MS, LAT, ATC, athletic trainer and Fairfax County Police Department Injury Care Prevention Program director. After Bates was involved in a serious car accident while on traffic duty, Sedory used her skill set and Domain Four, therapeutic intervention, of the domains of athletic training to speed up Bates' recovery.
The Journal of Athletic Training hosts the multiple podcasts that highlight articles from the Journal of Athletic Training. In June, the JATCast will have Luke Donovan, PhD, ATC, summarize two articles from the June Journal of Athletic Training. In the AT Tapes, Lizzie Elder, PhD, LAT,  ATC, will interview Samantha Scarneo Miller, PhD, LAT, ATC, from the University of West Virginia about her recent article titled "Adoption of Lightning Safety Best-Practices Policies in the Secondary School Setting" and her broader expertise regarding policy adoption in athletic training. In JATChat, Kara Radzak, PhD, LAT, ATC, will interview Geoffrey Dover, PhD, CAT, ATC, about his article titled "Association Between Pain Catastrophizing and Pain and Cardiovascular Changes During a Cold-Pressor Test in Athletes." Find the podcasts on Facebook, YouTube, Twitter, Apple Podcasts, Spotify, Podbean and Stitcher.
Development
There is still time to take advantage of the NATA Secondary School Sessions content. Registrations will have access to the sessions on-demand through June 12.
The 2021 NATA Virtual Clinical Symposia & AT Expo, the premier event for athletic trainers, is just around the corner! The VNATA 2021 platform goes live June 22, with live educational programming held June 22-24. The on-demand educational programming begins June 25 with live peer-engagement opportunities continuing through Sept. 30. With the theme "Always Evolving," VNATA 2021 builds on the success of this past year's virtual convention by providing attendees with a quality event that features the same number of CEUs as our in-person convention with a robust offering of platform features, capabilities and engagement opportunities. The virtual platform allows attendees to connect to content, thought leaders, vendors and their fellow athletic trainers around the world at any time, from anywhere. Early registration – $179 for current professional members – is available through June 21. After that date, registration will increase to $229 for current professional members through Sept. 30. Current professional members can save an additional $50 by prepaying their 2022 NATA membership dues. Retired and honorary members can register for VNATA 2021 for free. For the entire pricing breakdown, more information and to register, visit the convention website.
During VNATA 2021, attendees can earn up to 25 CEUs, including 8 EBP CEUs. The educational programming will cover a range of topics, which can be found in the preliminary program. The three themes of the educational programming are ergogenic aids, mental wellness and emergency preparedness and response. Here are some CEU-earning events to look forward to, and don't forget that 2021 is a reporting year, so be sure to earn the mandatory minimum of CEUs before the end of the year.