January 25, 2021 by
Elizabeth Quinn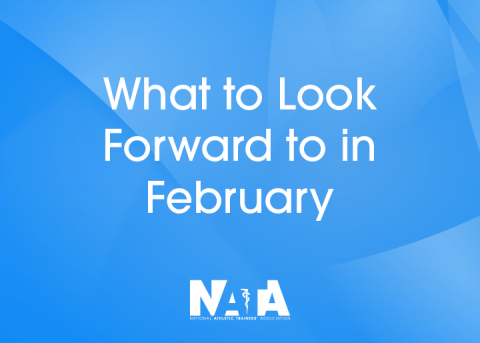 What to Look Forward to in February from National Athletic Trainers' Assn on Vimeo.
There is a lot happening at NATA! Stay up to date on what's to come each month in advocacy, engagement and development in this NATA Now blog series. Check out what else is in store for February, and follow our communication channels throughout the month for more information!
Watch the accompanying video as NATA President Tory Lindley, MA, ATC, discusses preparing for National Athletic Training Month and magnifying value.
Advocacy
Have a PR idea for NATM and not sure how to execute? Have a press release that you would like reviewed? Need a press list? Have no idea where to start? While members are able to contact staff at any time of the year, in February, NATA PR Manager Honey Hamilton will host extended office hours to help members prepare for their own public relations activities during National Athletic Training Month. She will be available for appointments throughout the week during business hours as well as from 5 to 7 p.m. CST Monday through Friday throughout February. If you would like to schedule a time to meet, or if you have any questions, email pr@nata.org.
Engagement
The February NATA News is themed around the value of athletic trainers. The feature article, "Value Beyond Treatment, Value in the Community," discussed an AT-organized event that provides $1 million in health care and education to 200 underserved student athletes every year while showcasing the profession and value of athletic trainers to the community. Other articles in this issue look at documentation as an AT's best liability tool, ATs jumping into emergency action to save lives, secondary school tips for building a relationship with new coaches and administrators and a continuation of At Your Own Risk's Value of the Athletic Trainer Series.
The NATA Ethnic Diversity Advisory Committee is accepting nominations for the Bill Chisolm Professional Service Award through Feb. 1. Created in 1994, the Bill Chisolm Professional Service Award recognizes an individual who has contributed to the development and enhancement of ethnically diverse athletic trainers. The recipient is selected by the committee and is not required to be a member of an underrepresented ethnically diverse population. Any NATA member may nominate a candidate for the award by completing the Bill Chisolm Professional Service Award nomination form.
The NATA Student Leadership Committee hosts biannual webinars on topics important to student members. Watch the webinar "Different Backgrounds, Same Goal: Moving Toward Authentic Diversity in Health Care" at 7 p.m. CST Feb. 10. This webinar is an experiential conversation focusing on diversity, equity, and inclusion. Panelists will feature Josh Yellen, EdD, LAT, ATC, a Jewish AT who overcame brain cancer; Kemba Noel-London, MAT, ATC, a PhD student in health policy, minority and immigrant adolescent health, sport and physical activity and concussion assessments; Ke'La Porter, ATC, CSCS, a graduate assistant and post-professional master in athletic training at the University of Kentucky; and Caitlyn Heredia, a master's of science in athletic training and kinesiology student at Northern Arizona University. Join as the SLC hosts this discussion about the importance of diversity within the athletic training profession. Contact the SLC at slcoutreachcom@gmail.com for more information.
As part NATM in March, the SLC will once again hold its annual video contest. This contest is open to any entry-level athletic training student. The contest will open Feb. 1 and close March 22. The winning video will be selected by March 29. More details will be announced on the SLC's Twitter, Facebook and Instagram.
Development