November 29, 2021 by
Elizabeth Quinn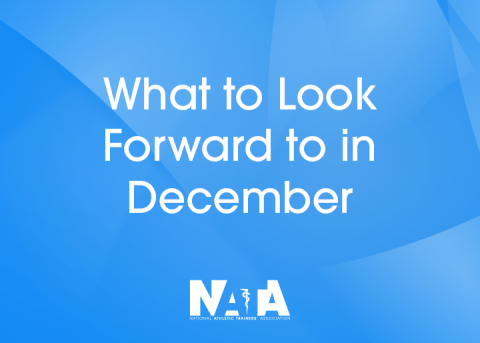 There is a lot happening at NATA! Stay up to date on what's to come each month in advocacy, engagement and development in this NATA Now blog series. Check out what is in store for December, and follow our communication channels throughout the month for more information.
Don't forget – it's member renewal season! NATA is working every day to ensure you have the advocacy, professional growth, connection and support needed to keep athletic training essential to health care. By being an NATA member, you are investing in yourself, your profession and your future. Visit the NATA Member Benefits webpage to learn more about what comes with being an NATA member and renew your membership today to avoid a lapse in your member benefits. The deadline to renew is Dec. 31. Don't let money get in the way of investing in yourself and your profession. Contact Member Services at 800.879.6282 or membership@nata.org to see how we can help.
Advocacy
A tip from the NATA Government Affairs Department for December: Send your legislators an AT-branded holiday card. For more advocacy tips and information, visit the NATA advocacy webpage.
Engagement
The December NATA News is the NATA annual report and highlights the work that has been done throughout 2021. Following the four member benefit categories – professional development, support, connection and advocacy – the magazine breaks down what was achieved on behalf of the member this year.
NATA staff will be available to answer inquiries about the NATA Professional Development Center (PDC) and anything related to this reporting year during normal business hours every week day during December except Dec. 23-24. The final day staff will be in the office and available to answer inquiries is Thursday, Dec. 30. The PDC is available 24/7. For more information, visit the NATA webpage on reporting year things to know.
Development
The deadline to register for NATA Education Encore: Top Sessions from NATA's Virtual Events has been extended to Dec. 15. The program features sessions from some of the most popular virtual events in 2020 and 2021, including courses on diversity, equity, inclusion and access. Those who register by the deadline will have through 11:59 p.m. CST Dec 31 to complete the courses and earn up to 16.5 CEUs, including 5 EBP CEUs.
The next NATA Forward Together event, a quarterly discussion with President Kathy Dieringer, EdD, LAT, ATC, during which she will provide updates on the path to reimbursement. In addition to hearing directly from President Dieringer, attendees will have the opportunity to ask questions and provide feedback. The December NATA Forward Motion is 11 a.m. CDT Dec. 7 via Zoom. The event is limited to 300 attendees and is first come, first served. Register for the event now.
Don't forget that 2021 is a reporting year! Visit the NATA Professional Development Center to earn CEUs this reporting year and beyond. Although the reporting year deadline is Dec. 31, the PDC is open year-round and offers a range of courses on topics you encounter in your everyday practice. A professional development FAQ resource has been added to answer questions on topics related CEU reporting and the PDC.
The NATA Research & Education Foundation Scholarship Program is one of the organization's most highly regarded programs. Through this program, which is managed by the Scholarship Committee, the NATA Foundation awards undergraduate, master's and doctoral scholarships. Scholarship applications close Jan. 15, 2022.