November 23, 2020 by
Elizabeth Quinn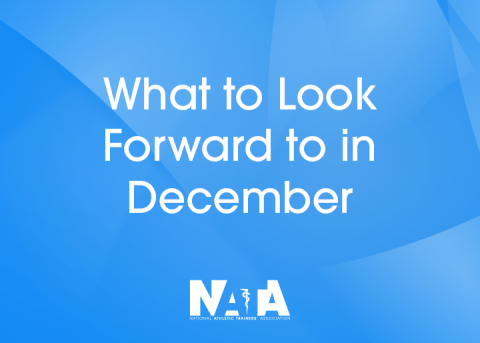 What to Look Forward to in December from National Athletic Trainers' Assn on Vimeo.
There is a lot happening at NATA! Stay up to date on what's to come each month in advocacy, engagement and development in this new NATA Now blog series. Check out what else is in store for December, and follow our communication channels throughout the month for more information!
Watch the accompanying video as NATA President Tory Lindley, MA, ATC, gives insight into the new NATA Timely Topics Series, a free event for members focused on giving attendees the chance to connect with thought leaders with anecdotal success within these areas of interest as well as access to a library of related resources (learn more below in the Development section).
Don't forget: The deadline to renew your NATA membership is Dec. 31. Renew today to maintain your valuable, member-only benefits that assist with professional growth, connection, support and advocacy.
Advocacy
This holiday season, consider making a gift to support the NATA Education & Research Foundation through its Health for the Holidays campaign. Every dollar donated will be put to work to advance the athletic training profession through research, education and professional development. You have the opportunity to send a personalized e-card to friends and family when you make a gift in their name. This is especially convenient when trying to find a gift for someone who already has everything they need. You can also make a gift as a memorial honoring someone who has passed. The NATA Foundation requests a donation of $10 per e-card sent, and you can request Health for the Holidays through the end of the year. For more information, visit the NATA Foundation's website.
Engagement
In the December NATA News, we look back on all the accomplishments made in the 2020 year. From National Athletic Training Month to the 2020 NATA Virtual Clinical Symposia & AT Expo and, of course, the COVID-19 pandemic that ATs around the world have addressed. NATA breaks down the year through advocacy, engagement and development. Also included is a look at finances and operations, the NATA Research & Education Foundation report and a final send-off saying goodbye to 2020 and hello to 2021.
The Winter Sports Medicine Legal Digest will be published in December. In this issue, NATA discusses the ethical responsibility of collegiate ATs who are no longer required mandatory reporters under new Title IX regulations. Also in the issue, the professional responsibility of an athletic trainer when using social media and how ATs can prep for the 2021 legislative session.
The next NATA ATs Care & EDAC Call-In Nights: Addressing Uncertainty in 2020 is at 6 p.m. CST Dec. 10. The ATs Care Commission and EDAC are collaborating on the call-in nights to provide ATs the opportunity to express their emotional reactions to racial injustice, COVID-19 and the overall uncertainty many are experiencing, under the guidance of ATs Care team members trained in ICISF's Group Intervention. Register on the ATs Care webpage.
Development