July 26, 2021 by
Elizabeth Quinn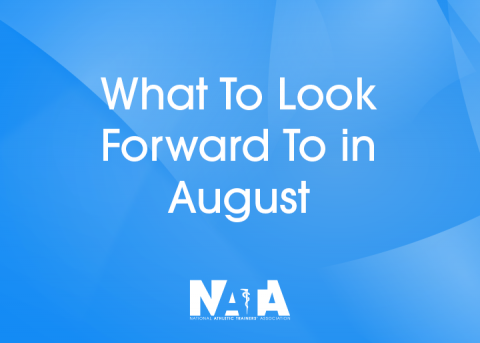 There is a lot happening at NATA! Stay up to date on what's to come each month in advocacy, engagement and development in this NATA Now blog series. Check out what else is in store for August, and follow our communication channels throughout the month for more information.
Advocacy
A tip from the NATA Government Affairs Department for August: It's hot! Now is a great time to remind legislators why ATs, who know how to properly treat heat exhaustion, are needed. Make a call or email them. For more advocacy tips and information, visit the NATA advocacy webpage.
In the August/September NATA News, the At Your Own Risk Value of the Athletic Trainer Series focuses on junior colleges. This series highlights the important work ATs do in their respective setting.
Engagement
The August/September NATA News' featured article looks back on the 2021 NATA Virtual Clinical Symposia & AT Expo. The article highlights members who participated in the virtual platform's photo booth as well as 10 things not to miss during VNATA 2021, 10 statistics from VNATA 2021 and 10 members share their takeaways.
The monthly Built for This article series in the August/September NATA News features David Silverstein, MEd, ATC, an AT who saved a Shaw High School in Cleveland, Ohio, athlete from sudden cardiac arrest. Silverstein used his Domain Three skills, immediate and emergency action, to jump into action. Reach more about his quick thinking and importance of emergency action plans in the magazine.
The Journal of Athletic Training hosts the multiple podcasts that highlight articles from the Journal of Athletic Training. In August, the JATCast will have Luke Donovan, PhD, ATC, summarize two articles from the Journal of Athletic Training issue, which focuses on NCAA injury epidemiology. Find the podcasts on Facebook, YouTube, Twitter, Apple Podcasts, Spotify, Podbean and Stitcher.
Development