September 3, 2020 by
Elizabeth Quinn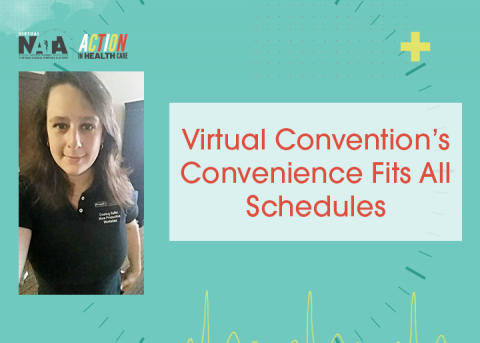 Editor's note: NATA reached out to athletic trainers who participated in the 2020 NATA Virtual Clinical Symposia & AT Expo to learn about their experiences for a blog series called My VNATA Experience. If you would like to share your thoughts on VNATA 2020 as well, email marketing@nata.org. 
District Four industrial athletic trainer Jennifer Bender, ATC, CMMSS, CEAS, has attended an in-person NATA Clinical Symposia & AT Expo before, but the new format for the 2020 NATA Virtual Clinical Symposia & AT Expo piqued her interest about how it would work. Bender also enjoyed the reliability that she would be able to fit the sessions into her schedule. Bender said the VNATA 2020 experience is a great opportunity for someone who may have never been to an NATA convention. The affordability, only $49 for members who prepay their 2021 membership dues, of this convention makes it more feasible to other health care professionals, too.
Although you can register for VNATA 2020 through Sept. 10, do not wait until the last minute as that is the last day you will be able to access the on-demand content for VNATA 2020. CEU assessments must also be completed by that date to receive credit for sessions viewed. Attendees have the ability to earn up to 25 CEUs in total, including 5 EBP CEUs. Visit the convention website to register now.
What was your favorite part(s) of VNATA 2020?
My favorite part of the convention was the course that I took on managing mass traumas: "An Integrated Approach to the Multi-Systems Trauma Patient: Stop the Bleed and Beyond."
What new knowledge/takeaway from VNATA 2020 will you use in your daily practice?
I will be putting together more detailed plans for running active shooter drills at our facilities as well as having our on-site people get more involved with the hazmat teams.
Why would you recommend VNATA 2020 to your fellow ATs?
The convenience of the format.
Is there anything else you'd like to tell us about your VNATA 2020 experience?
I found the convention to be exceptionally well put together! Thank you to everyone who participated in making it happen.