July 30, 2020 by
Elizabeth Quinn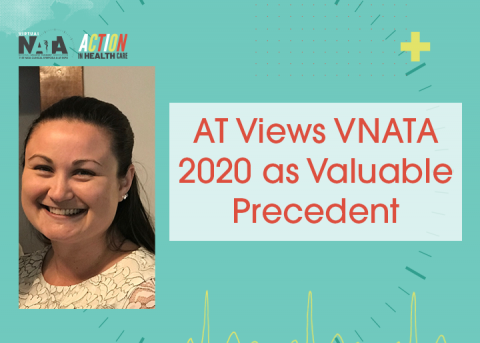 Editor's note: NATA reached out to athletic trainers who participated in the 2020 NATA Virtual Clinical Symposia & AT Expo to learn about their experiences for a blog series called My VNATA Experience. If you would like to share your thoughts on VNATA 2020 as well, email marketing@nata.org.
Kaitlyn Jackson, MS, LAT, ATC, is a middle school athletic trainer in District Four. The 2020 NATA Virtual Clinical Symposia & AT Expo, live July 13-16 and on-demand through Sept. 10, was the first convention that Jackson has attended. Jackson said VNATA 2020 was a great way to stay connected to her fellow athletic trainers from the comfort of her home, and it was laid out really well and allows for flexibility. She shared more of what her VNATA 2020 experience was like.
Learn more about VNATA 2020 on the convention website. While the live event has ended, registration is still open throughout the entire on-demand period.
Why did you decide to attend the 2020 NATA Virtual Clinical Symposia & AT Expo?
I signed up to attend the VNATA 2020 this year because it was most cost effective for me, and I knew I wouldn't be able to take time off to attend in person because I was in the middle of a job transition.
What was your favorite part(s) of VNATA 2020?
My favorite parts were the on-demand courses and being able to still have contact with vendors through the virtual AT Expo and access what was occurring during the live sessions.
What new knowledge/takeaway from VNATA 2020 will you use in your daily practice?
I found the NATA LGBTQ+ Advisory Committee's course, Peer-to-Peer Discussion: LGBTQ+ Patient Cases, helpful. I don't currently know of any athletes I work with who are going through a transition or who are trying to figure out how to come out to society with a new identity, but this course really was helpful on how to start the conversation and learn about the resources I have available at my school.
Why would you recommend VNATA 2020 to your fellow ATs?
It is a way for us to all stay connected even though we are at home. It gives ATs an option to still be a part of something, even if we can't be there in person. Virtually is the only way I was able to attend this year, and most likely in the years to come.