March 31, 2020 by
Elizabeth Quinn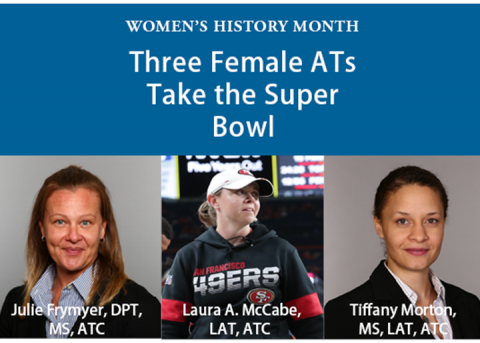 Editor's note: In honor of Women's History Month this March, NATA would like to celebrate all women athletic trainers making a difference in the profession and their patients' lives through a monthlong blog series. Julie Frymyer, DPT, MS, ATC, Tiffany Morton, MS, LAT, ATC, and Laura A. McCabe, LAT, ATC, were also featured on the NATA Now blog prior to the Super Bowl.
For the first time in Super Bowl history, three female athletic trainers were on the sidelines providing health care to players.
Julie Frymyer, DPT, MS, ATC, and Tiffany Morton, MS, LAT, ATC, with the Kansas City Chiefs and Laura A. McCabe, LAT, ATC, with the San Francisco 49ers stood ready Feb. 2 at the Hard Rock Stadium in Miami Gardens, Florida, while an estimated 102 million people watched Super Bowl LIV.
"The Super Bowl was a great experience," McCabe said. "I approached that week like any other road trip. We had a couple other weeklong road trips this season, so we know how to prepare. The energy surrounding the team was infectious. The team worked hard every day and carried their energy to the other events for the Super Bowl. I was proud to be with our team and represent them."
"There were three full-time women ATs in the Super Bowl, however [the Chiefs] have a seasonal intern, Jordan Stiers, who has been with us all year, and the 49ers have a female seasonal [intern] as well," Frymyer said. "So really, there were five female ATs working the Super Bowl.
"Last year, the Rams had two female ATs on their sideline. By having three full-time and two interns this year, this shows that females in these positions are no longer rarities. We're seeing continued increases in females on athletic training staffs, including those starting their careers as interns. This should be our normal, and we need treat it as such."
For football players, the Super Bowl is one of, if not the most important game of their career. It is an AT's duty to keep players as healthy as possible so they are able to perform at their best.
"I can say that for the most part treatments were easy that week as the guys had already worked very hard to be healthy for that game before we even arrived," Morton said. "And by guys, I mean the athlete and the other ATs. This is always a team effort, and it takes each of us giving a bit more so we all are successful."
After a season of some game-threatening injuries, such as defensive tackle Chris Jones' calf, tight end Travis Kelce's knee and tight end Deon Yelder's Achilles, the Chiefs pulled through in a 31-20 final, with quarterback Patrick Mahomes taking home the Super Bowl Most Valuable Player Award.
"Winning was surreal and like an out-of-body experience," Morton said. "I haven't been in the league long, but I've been to enough games where we were inches or seconds or a coin flip away from the next step. I've been to enough to not celebrate before the win is a guaranteed; and I think that's how I felt the last two minutes. I was waiting, counting the time and timeouts left and what we needed to be sure. It wasn't until the Gatorade hit the big guy, coach Andy Reid, that I started to believe we finally did it. And then it was a hug and congratulate and smile and gasp and take it all in."
"I'm not sure I can put into words what it felt like to win," Frymyer said. "It was surreal. It was extremely gratifying to see our team reach the ultimate goal they set out to achieve at the beginning of the year. To be able to help them on their journey and see them raise that trophy is something I will never forget. Celebrating with our entire sports medicine staff on the field and in the locker room was incredible."
In professional sports, women caring for male teams used to be a bit of a taboo; but over the years, strides have been made to pave the way for the women ATs.
"I would say having options in medical care is the biggest impact women have in football," Morton said. "Athletes should have the opportunity to work with who they feel most comfortable. Sometimes guys work better with women because perhaps they've always had a strong female in their life pushing them. Whatever the reason, it allows more options for best fit for our guys, which allows better healing. That's the goal."
ATs have the unique opportunity to advocate for the profession and encourage athletic training students to follow their dreams, no matter the setting.
"We should continue to look at women in these positions as normal," Frymyer said. "The longer we continue to make it an oddity, the longer it will be one. We want the conversation to shift from being about gender and, instead, make it about being the best athletic trainer. All athletic trainers, no matter gender, should strive to be the best at their profession."