April 16, 2020 by
Elizabeth Quinn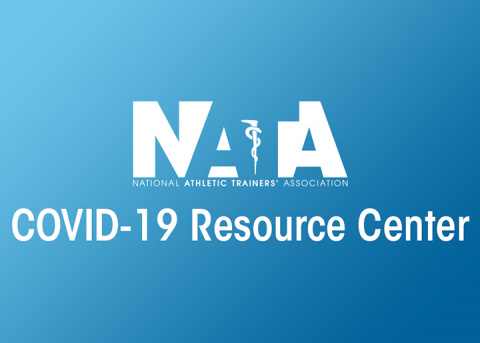 Since March, NATA has created and continuously updated a COVID-19 resource page on the NATA website. We want to make access to information as easy as possible. The page covers topics such as Go4Ellis, statements and additional resources for state leaders and health care professionals.
As states are still under a shelter-in-place orders, more health care professionals are turning to telemedicine to continue assisting patients. NATA has information available regarding telemedicine, including blog posts, resources, a Facebook Live and more.
Resources
Telemedicine Implementation Checklist: NATA formed a checklist, which includes privacy and national policy, addressing standing orders and technology needs, to help guide implementation of telemedicine into an athletic trainer's organization or practice.
A Day in Telehealth History: Access to Telehealth Services Expanded, Requirements to Facilitate Virtual Visits Relaxed in Response to Coronavirus:  This article details the decision made by the Centers for Medicare and Medicaid Services (CMS) to temporarily expanded access to telehealth services covered by Medicare allowing more beneficiaries to receive services from their doctors and other health care providers without having to travel to a health care facility.
Coronavirus - Action on Telehealth: The National Journal Presentation Center broke down how the government and private sectors' action expanded telehealth in the midst of COVID-19 through an online PDF.
General Telemedicine Toolkit: This PDF is a general provider telehealth and telemedicine tool kit with 1135 waiver information, a telehealth implementation guide and the basics on setting up telehealth.
Medicare Telemedicine Health Care Provider Fact Sheet: Medicare & Medicaid Services outlines the key information that goes into effect concerning telemedicine and Medicare.
Telehealth Services: Medicare Learning Network and Center for Medicare & Medicaid Services created a PDF booklet that outlines everything someone would need to know about telehealth, including the services, billing and payment information and resources.
Blogs
ATs Take Patient Care Virtual: In this NATA Now blog post, Lisa Kluchurosky, MEd, ATC, with Nationwide Children's Hospital in Columbus, Ohio, discusses incorporating telehealth through Zoom into her two departments.
Showing AT Value Through Telehealth Training: For North Carolina athletic trainer Megan Wahl, MS, LAT, ATC, she has moved her health care services to telehealth as her state is under a stay-at-home order. Wahl details her experience in a Q&A on the NATA Now blog.
Educational Opportunities
Telemedicine Facebook Live: NATA Chats will livestream an episode about telemedicine at 3:30 p.m. CDT April 16 through Facebook Live. Tune in on the NATA Facebook page and learn what resources and information are available to members with expert guests NATA Government Affairs Director Amy Callender and District Seven Director David Gallegos, MA, ATC, Cert. MDT.
Telemedicine Webinar: A new webinar was just added to the schedule as a resource related to the COVID-19 pandemic. Gallegos will present "Telemedicine and Virtual Care – Considerations for the Athletic Trainer" from 11 a.m. to 12:15 p.m. CDT April 23. The webinar is open for registration and free to NATA members ($25 for nonmembers). Gallegos will take viewers through how to apply the principles of telemedicine in the practice of athletic training and health care.