April 6, 2020 by
Elizabeth Quinn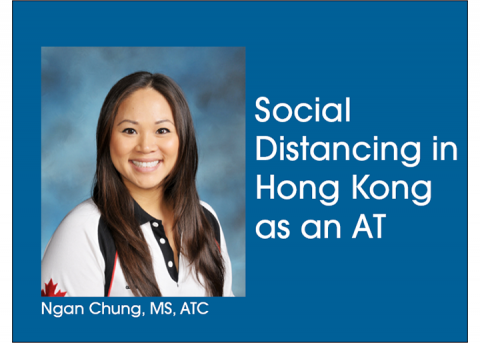 During the COVID-19 pandemic, athletic trainers have stepped up to help their communities and local health care systems in multiple ways, including screening, telemedicine and infrastructure. NATA will share what athletic trainers everywhere are doing to care for their patients, communities and themselves during this time.
COVID-19 began in Asia, but quickly spread throughout the rest of the world. In Hong Kong, the region is dealing with a second round of the coronavirus. With schools following the Hong Kong Government Guidelines in taking the communities health and safety as their highest priority by providing online learning, Ngan Chung, MS, ATC, an international athletic trainer working in the secondary school setting based in Hong Kong, shared the importance of taking social distancing seriously.
"As of April 4, Hong Kong has banned all tourists from entering and has put stricter measures in place to encourage social distancing," Chung said. "Currently, Hong Kong is getting its second wave of the viruses due to travelers returning back as many other countries have now become a 'hot spot' for COVID-19. We have 845 confirmed COVID-19 cases with four deaths. Schools have been closed since the end of Chinese New Year in January and are doing online learning."
One way to combat COVID-19 and get schools open again is by social distancing, according to the White House. As with the first round of COVID-19, China saw the benefits of isolation and quarantine, the United Nations reported, but there are some concerns with the potential triggers of being alone or distant from others, Chung said.
"Hong Kong takes social distancing seriously and recently banned bars, pubs, gyms, cinemas, karaoke bars and saunas from opening," Chung said. "The government has also ordered no more than parties of four to be out in public; however, people are still encouraged to go about their daily lives as normal as possible, such as going on hikes or to the park but whilst practicing social distancing. Hong Kong understands that health and wellness is also very much as important. Therefore, it is recommended to many people to still find ways to be active for at least 30 minutes a day. I find the best way to take care of myself is to stick to a routine and still be active by doing outdoors fitness or going out for a run."
Because of the virus, Chung wasn't allowed to see her students, even during the short period of time they went back to school.
"Many health care systems have put very strict protocols in place for prevention and control management of a COVID-19 case," Chung said. "Therefore, any students/patients of mine have now been referred to physios in a clinic due to schools being shut. When I was back at work a few weeks ago, I had staff members seeing me; however, I was not allowed to see any students to minimize the risk with contact."
With the schools relying on online and digital resources to stay connected, Chung needed to find creative ways to continue athletic training.
"Due to the sensitivity of too much screen time, I offer my rehab services by creating programs through videos of the exercises or through using YouTube videos," she said. "I have given a lot of students more mobility and flexibility exercises as opposed to strengthening due to limited equipment and resources at home. I have had to also be creative in any strengthening exercises by working with athletes on using body weight or basic things they would have at home."
At Chung's school, her athletic training skills have allowed her to build a role called the health and safety officer, which she has held the title to for two years. In this role, she collaborates with nurses, counsellors, psychologist and administration to provide the best conclusive care to the school's students and staff, she said.
Chung has also been working with other international ATs during the pandemic as a way to collaborate on ideas on how to best serve their communities.
"I have reached out to other international ATs to see if they have any involvement with prevention and management control COVID-19 protocols at their schools," she said. "I have also asked to see if they are willing to share what their school is doing to bounce ideas around to hopefully help others and find ways to implement the good practices at my school such as temperature checks and hand sanitizing prior to entering the building. Some international ATs have written in blogs or reached out to their community on how to prevent injuries during these long hours of sitting in front of a computer, which I was happy to share with my school."
Staying connect to others can help alleviate stress and anxiety that might come with the pandemic, Chung said. Chung has found that reaching out to friends and family back at home and understanding where they are coming from, as it is their first encounter with the virus, makes them feel supported.
"My family and close friends are all back in the U.S., which can be worrisome, but I contact them a few times a week," she said. "I find myself trying to help minimize their stress by being mindful of how they are feeling and talking to my family and friends about the facts and encouraging them to find activities at home that can keep them active."
However, Chung never underestimates the importance of taking care of one's self during this strenuous time, and she finds the best way to keep herself sane and happy is by creating a routine that can be accounted for and predictable, since we are living in unpredictable times.
"With so much uncertainty with COVID-19, it is always good to find a way to stay healthy and take care of yourself," Chung said. "I find sticking to a routine helps me because it is predictable as well as thinking of creative ways to stay active. Find ways to help you feel safe, even if that is by practicing social distancing or if you need to wear a mask while you are out. Lastly, be mindful of others on how they may be going through this as well."
If you'd like to learn more about NATA resources, visit our COVID-19 resource page.