March 23, 2021 by
Elizabeth Quinn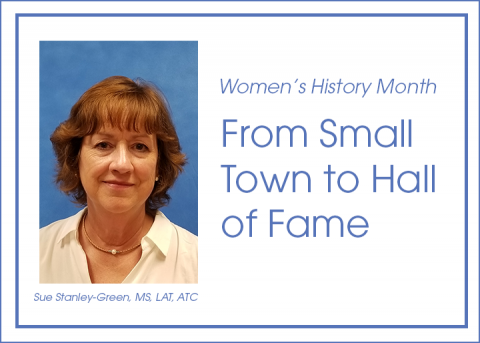 The March NATA News features an article about women in leadership and how to address barriers and challenges to becoming a leader. In honor of Women's History Month this March, NATA would like to keep this conversation going through a monthlong blog series highlighting our female leaders. Each blog will feature a different NATA council or committee chair, who will share insights into her leadership journey and what she's learned along the way.
In this blog, Sue Stanley-Green, MS, LAT, ATC, chair of the NATA Honors and Awards Committee, shares how hard work and determination lead her to a successful career as a leader in the athletic training profession.
Sue Stanley-Green, MS, LAT, ATC
NATA Honors and Awards Committee Chair
Manager of Performance Health, Women's Tennis Association
Have you felt you've been treated fairly/equally as a woman in a leadership position? Have there been an obstacles you've had to overcome? If so, how did you overcome/address them?
As a female athletic trainer, I faced a lot of challenges being accepted as an equal. I was the first woman to work football full time in the Southeastern Conference. For the first five years, most of the men in the conference did not acknowledge me when I met with them at our pre-game meeting. With a lot of hard work and persistence, I earned their respect and one of those athletic trainers even nominated me to run for president/district director of Southeast Athletic Trainers' Association.
Many times, in my leadership positions, I felt I had more to prove because I was a woman. I now realize most of that pressure came from me! Many of my mentors and biggest supporters have been men, and the challenges I faced made me more determined to do a good job. I believe all leaders have obstacles to face. Good leaders find a way around those obstacles!
Do you think it's important for more women to take leadership positions in athletic training? Why or why not?
When I started in the profession, it was very important to push hard to include diversity in leadership positions. If you look at the leadership within NATA when I started in athletic training, all the pictures are of white males. As the number of women in the profession increased, it was important they were represented on the board and committees. Over the years, the leadership evolved from no women in leadership positions to a time when the NATA executive director, president, Board of Certification executive director and Commission on Accreditation of Athletic Training Education executive director were all female. We have come a long way.
I believe good people who want to serve their organization should be in leadership positions. I don't think women should be chosen because they are a woman any more than men should be in those positions just because they are men. I believe NATA and all the athletic training organizations should strive to get people involved who love their profession, are dedicated to working hard, are willing to improve their leadership skills and can bring positive energy to their committees, boards or organizations. All groups are better with people of different genders, races, colors, backgrounds, practice setting, etc., who can share ideas and learn from each other. We are all better together!
How do you manage to balance work, life and volunteer leadership positions?
My involvement in leadership was easier for me because I am married to another athletic trainer who is also a leader in our profession. We worked together for many years and always supported and encouraged each other to get involved and serve our profession. There is no doubt we made each other better. The advice I always gave my students was to pick the right partner. If your partner doesn't support you, push you to be your best and encourage you to take that leap out of your comfort zone, you are with the wrong person. 
Balance is an interesting concept. It is a goal you are always striving for and often it seems out of reach. To be a leader, sacrifice is required. Your time is valuable, and you do have to take the time away from your family, friends, hobbies and job to invest into your volunteer position to move the profession forward. Sometimes the scale is tipped toward your job, sometimes toward your volunteer position and sometimes toward your personal life. We all get pushed and pulled in many directions. You want the average of the important things in your life to be balanced. The reality is that it won't be balanced every day, and you need to learn to be OK with that.
If younger you was looking at yourself now, what do you think they'd say? Would they have believed you'd become such a successful woman?
I think my younger self would say, "Wow! You rocked it!"
I came from a town of 1,200 people in central Ohio. I did not know anything about athletic training until I went to college at Ohio State University. I am certain my younger self or my dad, who died when I was 13, would never have believed I would be an athletic trainer who worked football for 15 years at the University of Kentucky, traveled with USA basketball, served on the board of directors for NATA and the BOC and was inducted into the NATA and SEATA Halls of Fame with my husband. And I would never have believed toward the end of my career that I work for the Women's Professional Tennis Association and work as an AT spotter for the National Football League. My younger and older selves both believe I have been extremely fortunate to have wonderful career and a great husband, daughter and family.
What is the key to becoming a successful woman in leadership in athletic training?
The key is the same for everyone: Get involved to give back to your profession. Join committees, run for office or volunteer for anything you can. Find your passion. Most importantly, learn to listen to others (especially other women) and lift them up! You will find you get back more than you give.
I don't want to diminish the challenge many women have had to go through to get involved and find a balance, especially when they have a family. Childcare and making everything happen at home often still falls to the woman. One thing that helped me when I was sure I was not doing well at work or at home was giving myself the permission to say, "Sometimes good enough is OK."
Women sometimes are reluctant to get involved. They may feel inadequate or too nervous to volunteer. Leadership sometimes comes very naturally to people, but most of the time, it is learned. You have to work hard to gain the qualities of leadership. My students never believed I was very shy when I was younger and hated to be in the spotlight. I observed the people I admired and tried to emulate the qualities that I valued. I read books on leadership and attended seminars to help develop my leadership tools. It was a process that took time. And, what I gained from being involved in NATA has been worth every minute.