May 13, 2021 by
Elizabeth Quinn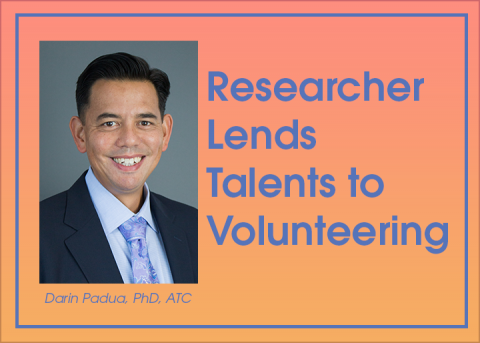 May is Asian/Pacific American Heritage Month. Throughout the month, the NATA Now blog will highlight some of NATA's Asian American and Pacific Islander committee members in a series that discusses the importance of service and giving back to the profession.
When Darin Padua, PhD, ATC, was a freshman at San Diego State University, he took an intro to sports medicine class, which was taught by athletic trainer Dennis Goebel, ATC. After completing the class, students were eligible to observe the athletic training facility. Padua loved the class and decided to observe the facility the following semester. During that time, Padua said he knew he finally identified his professional passion.
Continuing through his athletic training studies, Padua saw himself working in the collegiate or professional setting, focusing on patient care. When he entered graduate school, however, he was introduced to research. That ultimately changed his path of where he would lend his athletic training skills.
"It was during my graduate school experience that I was introduced to research and realized that conducting research that could be used to guide clinical practice was my ultimate passion," Padua said. "As a result, I decided to pursue my PhD so that I could receive more specific training as a scientist and educator. I've been fortunate that I've been able to utilize my education as an athletic trainer, scientist and educator in my current role as professor and chair of the Department of Exercise and Sport Science at University of North Carolina at Chapel Hill."
Since then, Padua has received multiple recognitions, such as a medal for NATA Distinguished Athletic Training Research Award in 2017, NATA's Most Distinguished Athletic Trainers in 2015, a National Academy of Kinesiology fellow in 2013 and an NATA Fellow in 2020. He has also given back to the athletic training profession in the way he knows how.
Formerly the NATA Research & Education Foundation Research Committee chair, Padua currently serves as a section editor for the Journal of Athletic Training  and senior associate editor for the NATA Journal Committee.
Padua started with JAT in 2004 and served as an editorial board member. In 2007, he became a section editor. He was with the Research Committee as a member from 2005-08 before serving as chair from 2008-14.
"No profession or organization is perfect, and there are always aspects that can be improved," Padua said. "It has been my experience that the best way to help facilitate change is through engagement in service activities. If there are things that you feel the profession should be more or less focused on, then I would encourage folks to get engaged and work to make the change that you feel is important to be made."
Volunteering can also provide new insights into other settings and the profession as a whole.
"You learn so much from working with other professionals that can be directly taken back and applied to your primary work setting," he said. "In addition, you understand the processes needed to invoke change and can better appreciate the importance behind various initiatives taking place in our profession."
His favorite part of volunteering coincides with advancing the profession.
"Working alongside other dedicated professionals who have the same passion and desire to see the profession of athletic training evolve and reach new heights [is my favorite part of volunteering]," Padua said.
Padua recommends that members volunteer or join a committee. For first-time volunteers, he said to go into the role with enthusiasm and excitement as well as become acquainted with as many people as possible and show them your passion for the role you're taking on.
For more information about volunteering with NATA, visit Gather. Under the Participate tab, you can find information about the volunteer opportunities, including those with NATA's various committees. Learn more about all the committees NATA to see if there is one that fits your interest.