February 15, 2021 by
Elizabeth Quinn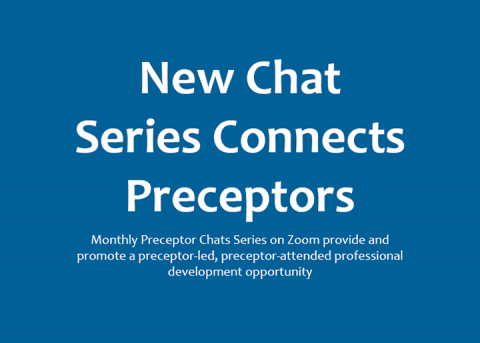 The NATA Professional Education Committee is hosting a monthly Preceptor Chats Series to provide and promote a preceptor-led, preceptor-attended professional development opportunity. The next chat, which will cover the new CAATE Standards, is at noon CST Feb. 23 and will be moderated by Gary Hanna, LAT, and Paul Capp, MS, LAT, ATC.
"The conversation will focus on the staying up to date with some of the new skills and techniques athletic training students are learning and strategies for preparing students for different aspects of the athletic training profession, such as the time requirements and necessary communication skills," Capp said. "Personally, I'm excited to have the opportunity to converse with ATs with different backgrounds and in different work settings that serve as clinical preceptors. As a preceptor, I think all of us care deeply about doing all that we can to adequately prepare our students for their career as an AT."
These peer-to-peer sessions will establish a forum for preceptor learning and promotion of clinical teaching skills and techniques. NATA members who serve as preceptors for professional degree programs will have the opportunity to develop, lead, moderate and attend chat sessions though a virtual platform sessions.
"We all hope to give students opportunities to utilize the skills they are learning in the classroom in the clinical setting," Capp said. "By utilizing this conversational format, I think we can all learn from one another the strategies that are best to prepare our students for their future."
This free member benefit is moderated by a preceptor with a specialty or interest in an area of clinical education. These are not presentations but rather chats designed to connect preceptors and promote learning in a way that may not have been previously possible.
The previous session on adapting as a preceptor in times of COVID-19 on Jan. 26 was moderated by Jeremy Gsell, MS, ATC and Daniel Ruedeman, MS, ATC, AT Ret. Gsell said the conversations were positive in terms of teaching virtually, safely returning students to clinics and identifying new preceptor techniques.
"Being able to take part in the preceptor chat series was an awesome experience," Gsell said. "I have always enjoyed being a preceptor. Being able to share my philosophies and experiences with other preceptors was very rewarding. It was very informative to be able to talk with preceptors from all over the country and get their feedback on how they are dealing with COVID-19 as well as the adaptations that they have had to make in regards to working with athletic training students."
"My setting is the physician practice setting, and COVID-19 changed the way I was able to work with students and help them," Ruedeman said. "We could no longer have them in the hospital, and so we started to build talks for the students we signed up to mentor and create virtual platforms for education. It's tough to know what the student needs and wants to talk about and what direction to take them. We adapted in this way. It created communication points about athletic training, life lessons and different skills outside of work."
These Zoom sessions are limited to the first 30 registrants for each chat. The February session is now open for registration – be sure to sign up today.