February 17, 2020 by
Elizabeth Quinn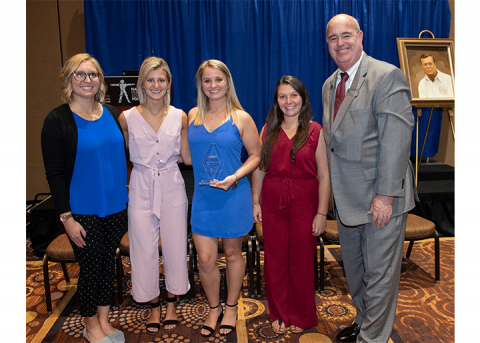 Calling all athletic training students: Are you the competitive type? Do you want to raise awareness for athletic training, but don't have the funds to do so as a college student? Do you want to raise money for not only your school, but also the NATA Research & Education Foundation? If so, consider participating in the 2019-20 NATA Foundation's National Athletic Training Student Challenge (NATSC).
This is a great opportunity for AT students who want to support the athletic training profession and the NATA Foundation, the philanthropic arm of NATA that champions research, supports education and enhances knowledge to optimize the clinical experience and outcomes within the diverse patient populations.
Getting started is simple:
Register your athletic training program on the NATA Foundation website.
Start raising money.
How do you raise money? Great question. The NATA Foundation has compiled a list of possible fundraising ideas to get you started:
Promote National Athletic Training Month in March throughout your community, campus and on social media.
Challenge teachers, schools, class years to raise money through fun wagers.
Partner with local businesses to host a giveback event that donates a percentage of sales during a certain day or time of day.
Host continuing education sessions.
Host a talent show, corn hole tournament or hockey slap shot content.
Partake in Hydrate the Homeless, which calls for donating squirt bottles to your community's homeless population as well as pledges.
For more fundraising ideas, reach out to the NATA Foundation to be connected to experts in the fundraising field.  
Once your AT program has reached $500 in fundraising, it has the option to receive 10 percent of the total contribution to use for local programs and activities to continue the enhancement of athletic training education.
During the 2018-19 NATSC, more than 15 schools participated in fundraising, including the University of Buffalo, Kansas State University, Long Beach State and University of Georgia. This year, seven schools in Districts Two, Five, Six, Nine and Ten have signed up to participate in the challenge.
The University of Kansas is leading the board with more than $500, surpassing its original goal – and this is its first time participating.
There are some new additions to the challenge this year, such as social media graphics, text-to-donate campaigns and a first-place prize of personalized golden scissors. Speaking of prizes, the top fundraising team will also get recognition in an issue of NATA News, a dedicated Facebook and Twitter post from the NATA Foundation, recognition during the Pinky Newell Scholarship and Leadership Reception at the 71st NATA Clinical Symposia & AT Expo this June in Atlanta, complimentary NATA 2021 registration for four and more.
Also new this year is the NATSC Rivalry Challenge. This challenge was created to encourage rival schools to compete to see who can raise the most money. One of the perks of winning? Bragging rights, of course! The winner will also get a spotlight in an upcoming NATSC newsletter, certificate to display at school, shout out on social media and special segment on the NATA Foundation website.
So, are you ready to get fundraising? Send your program director the official invitational letter to get the process started. It is also beneficial to send the NATSC guide for a full outline. The challenge and all reporting must be done by 11:59 p.m. CST May 31.
The NATA Foundation has awarded more than 33 research grants totaling more than $4.8 million and awarded 1,674 scholarships for a total of more than $3.4 million through the scholarship program. Help continue the work of the NATA Foundation through the student challenge.
Here's to advocating for athletic training on behalf of NATA and the start of students' advocacy for the profession as a whole. Good luck, everyone!
For further questions or assistance, contact Senior Special Projects Coordinator Katie Scott at fndnstaff@nata.org.