November 19, 2020 by
Elizabeth Quinn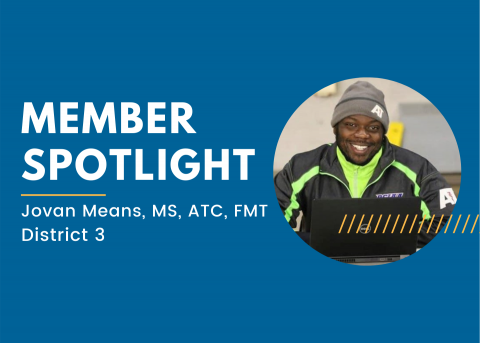 During Membership Appreciation Week, Nov. 16-20, NATA wants to celebrate members who make the association what it is: home to all athletic trainers. Members have been chosen at random and will be featured throughout the week in our Member Spotlight blog series. For more information on what's happening during the week, visit the Member Appreciation Week webpage.
Name and Credentials: Jovan Means, MS, ATC, FMT
District/State: District Three, District of Columbia
Job Setting: Secondary School
Job Title: Athletic Trainer
Place of Employment: District of Columbia Public Schools
Years of Membership: 16
What was your "ah-ha" moment when you knew the athletic training profession was for you?
I was fortunate enough to attend District of Columbia Public Schools, which has full-time athletic trainers. While in high school, I was inspired by my athletic trainer Dawn Bracley, LAT, ATC, CES. When I saw how much she cared for me and my teammates, it made me want to be an athletic trainer.
Do you have an AT hack you can share?
My AT hack is my converted Craftsman toolbox that I turned into my sideline kit. The kit is durable, water-resistant, on wheels and a good chair in a pinch.
What was the best advice you've received as an AT?
Always keep snacks!
How have you impacted your community as an athletic trainer?
One of the ways I have an impact on my community is by learning Spanish. I am studying Spanish so I can better communicate with and give the best care possible to my large population of Hispanic athletes.
What is your favorite part of being an athletic trainer?
My favorite part of being an athletic trainer is the bond that I make with athletes, parents and faculty members. My greatest joy is when former students return and tell me about the impact that I made on their life.
Which NATA benefit do you value most?
The NATA benefit that I value the most is the ATs Care Commission. I have personally lost students, friends and athletes to tragedies. It is really comforting to have fellow ATs reach out to help me cope.
Why are you a member of NATA?
I am a member of the NATA because it is a great way to stay informed on changes and new opportunities in the profession of athletic training. Also, being a member of the NATA is a great way to network and make professional friendships.
What are your hobbies?
I have combined my love of combat sports with the art of being a cutman.  Cutmen/women work very, much like an AT, but are mostly found only in boxing and mixed martial arts arenas. My experience as an AT has allowed me to step into a unique arena and deliver a dynamic duo of athletic training knowledge and cutman techniques. I am also an avid fitness buff and compete nationally in Spartan races.