November 18, 2020 by
Elizabeth Quinn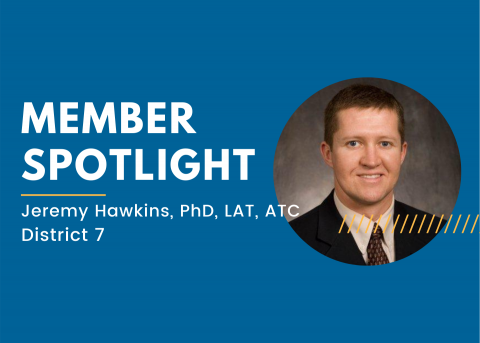 During Membership Appreciation Week, Nov. 16-20, NATA wants to celebrate members who make the association what it is: home to all athletic trainers. Members have been chosen at random and will be featured throughout the week in our Member Spotlight blog series. For more information on what's happening during the week, visit the Member Appreciation Week webpage.
Name and Credentials: Jeremy Hawkins, PhD, LAT, ATC
District/State: District Seven, Colorado
Job Setting: University
Job Title: Department Head, Department of Kinesiology; Athletic Training Program Director; Associate Professor
Place of Employment: Colorado Mesa University
Years of Membership: 20
What was your "ah-ha" moment when you knew the athletic training profession was for you?
In the fall of 1999 I took a course at Brigham Young University taught by Ken Knight, FNATA, entitled "Introduction to Allied Health Professions." That was my first introduction to athletic training, and it seemed to be a good fit for me.
The following semester I took a care and prevention course that required a handful of observation hours, both on campus and in the community. During these two courses, I decided that was what I wanted to do and have loved it ever since.
What was the best advice you've received as an AT?
I will answer this question a bit differently than it is likely intended. I learned a lot from the athletic trainer I worked with during my master's degree, Kurtis Kidd, MA, ATC. He would routinely say, "Ice is nice, but motion is the potion." Dr. Knight was my doctoral mentor, so I have been fully indoctrinated concerning ice, but I regularly go back to this thought from Kidd. Best advice – get them moving. 
What is your favorite part of being an athletic trainer?
My answer to this question has evolved over the years. As a practicing clinician, it was the relationship you develop with the athletes, particularly when they become your patients. As an educator, it is the relationship you develop with the students. I love to see a student get it, to see the athletic trainer come alive to them.
One of my best teaching memories was early in my career when I was standing next to a student the first time they successfully did a Lachman's. A big smile broke across their face. Those are good days, and every bit as rewarding as the first time a patient returns to field post anterior cruciate ligament repair. 
Which NATA benefit do you value most?
I value the opportunity to learn new things through the Professional Development Center. I love to attend conferences and to publish papers, but it is also great to be able to sit at my computer and learn. 
What are your hobbies?
I am the father of five active kids, so many of my hobbies are centered around being a dad. I do enjoy getting up early in the morning and either lifting weights or going for a run. I also try to always be reading a book. My most recent favorite is Boys in the Boat – another is Essentialism. Both are great reads!