August 10, 2020 by
Elizabeth Quinn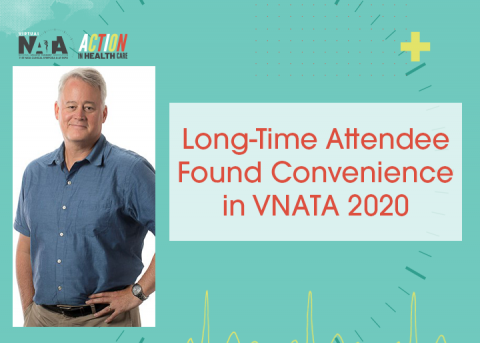 Editor's note: NATA reached out to athletic trainers who participated in the 2020 NATA Virtual Clinical Symposia & AT Expo to learn about their experiences for a blog series called My VNATA Experience. If you would like to share your thoughts on VNATA 2020 as well, email marketing@nata.org.
Richard DeMont, PhD, CAT, ATC, works in academics internationally, but has attended almost every NATA Clinical Symposia & AT Expo since 1993. For DeMont, attending the 2020 NATA Virtual Clinical Symposia & AT Expo was convenient since it was online and he has until Sept. 10 to go back and catch any sessions he missed. DeMont also said there was a good line up of speakers and options for evidence-based practice sessions. He shared more about his VNATA 2020 experience.
Learn more about VNATA 2020 on the convention website. While the live event has ended, registration is still open throughout the entire on-demand period, which ends Sept. 10.
What were your favorite parts of VNATA 2020?
I thought two parts were particularly special. The speech from Marjorie Albohm, MS, Ret. ATC, after being presented as the first recipient of the NATA LGBTQ+ Advisory Committee's Award for Inclusive Excellence – it was inspiring for everyone, regardless of stripe or background. The second was the Face Time '20 with the two presidential candidates. They both sounded excellent and either was a good choice!
What new knowledge/takeaway from VNATA 2020 will you use in your daily practice?
I really enjoyed the session, "Got Data? Using Patient Care Documentation to Drive Clinical Decisions and Improve Care," presented by Kenneth Lam, ScD, ATC. His analysis of data and positioning how data is helpful to progress the athletic training profession. These examples reinforced my understanding and use of such data to assist new ATs in justifying their roles, actions and contributions to the institution they belong. I also enjoyed the analysis of the Immediate Care and Management of Joint Dislocations Position Statement. The great thing is I have some other sessions on my list that I still need to go back to view!
Why would you recommend VNATA 2020 to your fellow ATs?
I would recommend it. It was a great bargain, especially when you prepay your 2021 NATA dues, which most of us would be doing anyway.
Is there anything else you'd like to tell us about your VNATA 2020 experience?
Thanks for adapting to this model. It worked well, but I hope we will be in person next year!