February 12, 2020 by
Elizabeth Quinn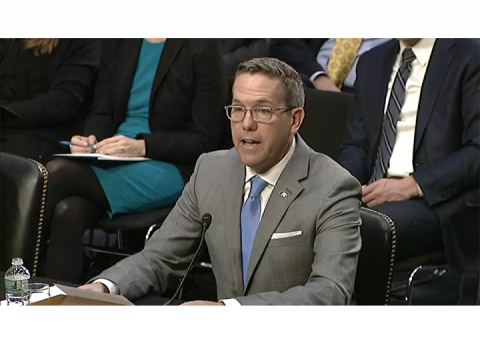 NATA President Tory Lindley, MA, ATC, testified before the Senate Committee on Commerce, Science and Transportation Feb. 5 in Washington, D.C., on the topic of "Athletic Safety and the Integrity of U.S. Sport." Testifying along with Lindley was Ju'Riese Colón, CEO of U.S. Center for SafeSport, and Travis Tygart, CEO of U.S. Anti-Doping Agency.
The hearing was to discuss sexual abuse in sports, physical health and safety of athletes and removal of performance-enhancing drugs from sports.
"Today's hearing is an opportunity to discuss the merits of this legislation and how it can advance clean sports in the United States and around the world," said Sen. Roger Wicker, chairman of the Senate committee.
During the hearing, Lindley had five minutes to preview a range of topics, including the background of the athletic training profession, athletic health and safety issues, NATA's leadership in youth athlete safety issues, promoting physical activity, the opioid and prescription drug epidemic and other federal legislative and regulatory policy issues.
"It was an extraordinary opportunity to represent NATA members in a way that highlights the incredible work that athletic trainers do in health care, many people don't yet appreciate," Lindley said. "It was an energizing environment. We deserved this opportunity!
"One major benefit of having a seat [at the table] is the future chance to build upon relationships with this important Senate committee."
In Lindley's testimony, he made a point to assert athletic trainers as the health care professionals saying, "Using a medical-based education model, comparable to other health care professions, athletic trainers serve as allied health professionals with an emphasis on clinical reasoning skills. The curriculum of an accredited athletic training program must include a comprehensive basic and applied science background and uses a competency-based approach in both the classroom and clinical settings."
Further into his testimony, Lindley focused on catastrophic sport-related injury and the ATs role in prevention.
"[For] athletic trainers, the most concerning fact is that the secondary school athletic population leads the nation in athletic-related deaths," he said. "Between 2008 and 2019, there have been more than 400 sports-related fatalities among young athletes. Let me underscore this fact; in an 11-year period, we lost over 400 children who were merely playing sports. As a nation, we must do a better job in protecting youth athletes while continuing to promote the benefits of sports participation."
Following the testimonies from all three witnesses, the Senate committee asked the witnesses questions. During this time, a senator asked Lindley to break down the data about ATs in secondary schools, where only a third hire full-time ATs, a third hire part-time ATs and a third don't have any ATs at all.
Through the help of NATA's government affairs team's work with the Senate and the Commerce committee, Lindley was able to participate in the hearing to advance the public's understanding of the athletic training profession.
"I was given the opportunity to represent 45,000 members, but each member has an individual opportunity and an individual responsibility to advocate for the patients we serve and to advocate on behalf of the profession," Lindley said.
There are other advocacy groups that can impact both state and federal levels. Everyone has the ability to own our impact on a regular basis, Lindley said.
"This was another milestone for NATA and another milestone for our profession," Lindley said. "Believing in the value of athletic trainers in health care, I was able to speak confidently and proudly about the work ATs do in multiple settings on behalf of athlete safety and patient safety. That was a really good feeling in a somewhat intimidating environment, knowing we have a tremendous story to tell. In the end, I felt like this was a big win for NATA as we were to move the needle on health and safety."