May 13, 2020 by
Elizabeth Quinn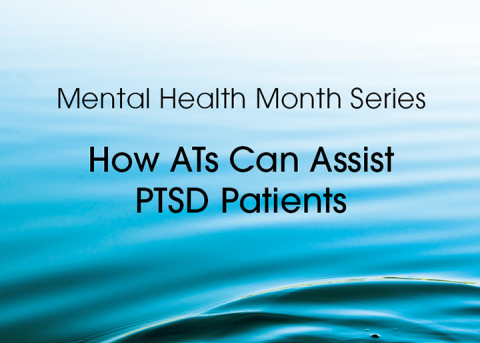 Editor's note: In honor of Mental Health Month, NATA is conducting a weekly mental health blog series throughout May to examine different facets of this topic and how they impact athletic trainers and their patients. This week's article focuses on how athletic trainers can assist patients who have post-traumatic stress disorder.
After a traumatic experience, such as life-threatening events, natural disasters or assault, people can experience flashbacks, nightmares, severe anxiety, uncontrollable intrusive thoughts and emotional numbing, according to Cohen Veterans Bioscience. It is a clinically diagnosed psychiatric disorder called post-traumatic stress disorder (PTSD).
Among people aged 13 and older, 5.7 percent will develop PTSD, Cohen Veterans Bioscience reported; however, for U.S. infantry personnel post-deployment, PTSD is around 10 to 20 percent. Lori Uretsky, MEd, LAT, ATC, has worked with military members who have PTSD and said, as an athletic trainer, identifying the signs of PTSD takes a little time.
"For me, personally, the way to identify PTSD would be through having the relationships that I do with the people I work with and getting to know them, hearing about some of the things – unclassified – that they have been through," Uretsky said. "I look for how they act at work, around certain dates or events – anniversaries of crashes, holidays that use fireworks, etc. – and when they return from deployments or humanitarian events, such as hurricanes. People I work with trust me and, at times, have opened up to me about how they feel."
When it comes to helping patients, ATs can work with mental health professionals if a patient shows signs of a mental illness. For Uretsky, she has licensed clinical social workers and marriage and family life counselors her patients can talk to as well as a mental health facility on the base.
"I will also listen when they want to talk," she said. "I often don't say anything in return other than telling them that I am there for them, support them and care about them."
It is important for athletic trainers to work with mental health professional for a holistic health, as Chris Carr, PhD, HSPP, CMPC, said in a previous NATA Now Mental Health Month blog.
"I believe in working as a team, and mental health professionals are a part of that team," Uretsky said. "In working with the military, I am able to refer my patients to an in-house mental health provider. This will allow the patient to not only be treated for any physical issues but mental and emotional as well."
The Cohen Veterans Bioscience reported that "PTSD can greatly impact patients' health in terms of increased risk for cardiovascular disease, hypertension, hyperlipidemia and obesity, among other conditions – not to mention a number of psychological disorders." Because of this, it's imperative that an AT is knowledgeable on mental illnesses and their signs and symptoms.
"Mental illnesses can show many signs and symptoms," Uretsky said. "An athletic trainer being aware of those signs and symptoms may help their patient be treated, know they are cared for and seek out guidance and help. Mental illnesses can affect how a person is physically as well, and that can hinder whatever it is they are doing – playing sports, serving in the military, physical therapy, etc."
Because of their close relationship, patients might be more comfortable opening up about their mental health concerns with their athletic trainer, leading them to get help they might have difficulty seeking out on their own
"Unfortunately, mental illness has a stigma, and often times, people are afraid to admit to having a mental illness or seeking help," she said. "I think if there was more information, more people who came forward with their mental illnesses and better care for those suffering, maybe the stigma would diminish and allow others to come forward and seek help."
For more information about PTSD, visit the resources provided by Mental Health America and the U.S. Department for Veterans Affairs.