May 13, 2020 by
Elizabeth Quinn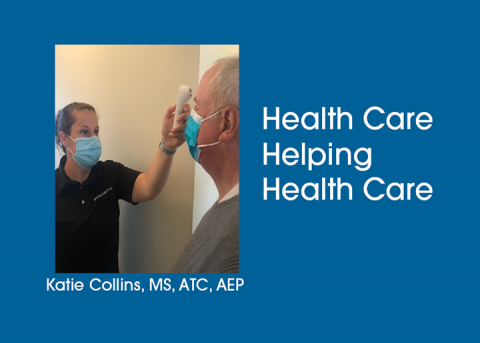 During the COVID-19 pandemic, athletic trainers have stepped up to help their local health care systems in multiple ways, including screening, telemedicine and infrastructure. NATA will share what athletic trainers everywhere are doing to care for their patients, communities and themselves during this time.
"Within 72 hours' notice, I left my husband and my life behind and started on a 1,000-mile trek north, knowing I'd be gone for a while," said Katie Collins, MS, ATC, AEP. "I know I am here to serve a purpose, so I just keep my focus on that."
Leaving her home in Atlanta, Collins traveled to Massachusetts with her dogs to aid BIOKINETIX, a preventative health care organization that provides injury prevention programs to businesses and the government, during the COVID-19 pandemic. As BIOKINETIX's workers continue to better the health care system around the U.S., BIOKINETIX has recruited athletic trainers to protect them, Collins said.
"We are stationed at every entrance of a 1-million-square-foot building administering noncontact temperature screens," Collins said. "We check every employee and visitor who enters the building. Twenty-four hours a day, seven days a week, we have staff there to ensure that those who enter the building are not experiencing COVID-19 symptoms."
There are other satellite locations that have screenings as well, but this new procedure is something BIOKINETIX has never implemented before, so it was up to the athletic trainers to pioneer it, Collins said.
They were tasked with locating qualified staff, finding and sourcing necessary personal protective equipment, establishing protocols that are in alignment with the Centers for Disease Control and Prevention, educating and coordinating with upper level management, educating front-line employees and bringing it all together in a matter of days, she said.
"The past three weeks have gone by like a flash, but at the same time, it seems like I have been away for months," Collins said. "Since I am on the front lines and am exposed to thousands of people each week, I try to stay away from most of the general population. I have family close by in the area, so it is tough not seeing them. Nothing lasts forever. This is only temporary; this, too, shall pass. This is something that hasn't happen in any of our lifetimes or the lifetime of our parents. It is all new, and we all are in uncharted territory."
Being in the industrial setting, Collins finds that she encounters a lot of people who aren't aware of what an AT does on a day-to-day basis.
"We have to educate them on our profession, earn their trust, gain their respect and do our jobs," she said. "COVID-19 is not something that most companies have planned for, so there are unknowns around every corner. Clear and constant communication has been the foundation of this project, then we just build from there."
Although the COVID-19 pandemic has been a test of grit and mental toughness, Collins said she also has found a way to grow during this time. She has been able to practice problem solving, critical thinking, project management, inventory management, budgeting, adapting and "making things happen," she said. But she offers advice for fellow ATs.
"Take care of yourself so you can care for others," Collins said. "Athletic trainers are some of the most selfless people I know, but we need to keep an eye on our own state so we can continue to serve in the coming months. We have such a wide range of skills, we just need to apply them differently and adapt to the ever changing environment."