October 22, 2020 by
Elizabeth Quinn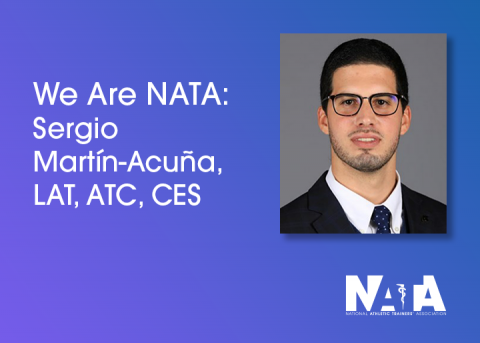 Home to athletic trainers throughout their careers, NATA provides its members access to professional growth, support, connection and advocacy. Through this semiweekly blog series, members will share what made them join NATA, the value of membership and how, together, we are NATA. Don't forget, the deadline to renew your 2021 NATA membership is Dec. 31. Renew or join today and learn more about the benefits of NATA membership.
Sergio Martín-Acuña, LAT, ATC, CES, is a graduate assistant athletic trainer at the University of North Carolina at Greensboro. There he works with men's soccer and cheerleading squad. Martín-Acuña also works as a teaching assistant and lab instructor for the Undergraduate Clinical Human Anatomy Lab. He has been an NATA member since Nov. 13, 2017, and served on the NATA Student Leadership Committee from 2019-20. Through his experience with NATA, Martín-Acuña has been able to meet "legends in the profession," who have provided mentorships, as well use NATA's resources both as an athletic training student and young professional that have helped him grow in the athletic training profession. Below, he shares what membership with NATA means to him.
How has being a member of NATA helped you grow as a professional? 
Being a member of NATA has helped me grow as a student and young professional. Thanks to NATA, I've been able to attend the Eastern Athletic Trainers' Association Annual Meeting and NATA's Clinical Symposia & AT Expo on three different occasions as well as the NATA Joint Committee Meeting. In those events, I was able to meet great leaders of the athletic training profession and build a network of people who have become lifelong friends and mentors.
In addition, I've been able to attend presentations and continuing education sessions that have improved my knowledge and made me learn new ways of approaching patient care that I currently apply in my daily practice. Lastly, thanks to the access to the NATA Career Center, I was able to land my current job at the University of North Carolina at Greensboro.
How does being a member of NATA influence your network and your ability to connect and build community with other ATs? 
Thanks to the opportunities and experiences I have being a member of NATA, attending the events and volunteering in roles, such as the NATA Student Leadership Committee, I was able to build my current network and connect with great professionals in the athletic training community. I feel privileged for having the guidance and influence of role models and legends in this profession such as Michael Goldenberg, MS, ATC, CES, Tim Weston, MEd, ATC, Jeff Konin, PhD, ATC, PT, and Katie Walsh Flanagan, EdD, LAT, ATC, who I want to thank and give a big shoutout!
All of them are amazing leaders in the sports medicine field, and I will always be thankful for their mentorship and friendship. They have helped me become a better leader, athletic trainer and young professional.
How has being a member of NATA impacted your ability to advocate for yourself or the profession at large?
Thanks to the network I have been able to build and the resources provided by NATA, I was able to represent District One on the SLC, lead the SLC Outreach Subcommittee and serve as the District One Student Ambassador Program chair as well as become a member of the NATA Student Leadership Committee & Young Professionals' Committee Joint Workgroup. That led me to opportunities such as being a moderator during an Athletic Training Student Seminar breakout session at the NATA Clinical Symposia & AT Expo, presenting "My Athletic Training Story" in front of the NATA Board of Directors at the NATA Joint Committee Meeting and organizing and hosting a trivia event during the 2020 NATA Virtual Clinical Symposia & AT Expo.
During your career, how have you felt supported by NATA? 
Since the moment I joined NATA, I have felt supported thanks to all the different programs NATA offers to its members and all the resources available. Opportunities to volunteer, communicate with peers, have access to mentors and many more. It is an honor to be part of such an incredible organization that strives for the profession, takes care of the worries of all its members and makes them feel valued. Being from Spain, at first I thought I was not going to have access to the same opportunities, but I feel so grateful for how everyone in NATA has treated me, valued me and made me feel "at home."
From being a student member to a certified member, NATA has helped and assisted me in any way possible – from having the opportunity to attend conventions and meet great leaders in the profession to finding my current job, presenting scholarly work and even being able to represent the student and young professional population.
Why are you a member of NATA? 
I'm a member of NATA because of the ability of advocating for the profession, building a community with other athletic trainers and having access to all the amazing resources available. In addition, I want to keep advocating for the athletic training profession at the international level and, specifically, my goal once I finish my graduate assistantship is to become actively involved again with the NATA International Committee in order to help and provide assistance advancing the profession in Europe with the network and resources I've been building over the past five years.
Athletic trainers can work perfectly with physiotherapists and kinesiologists, and bridging the gap is essential for athletic training inclusion in the working environment. I think the NATA IC is doing an amazing job and providing great opportunities for athletic trainers to work internationally, and I, as an international member of NATA, want to provide all my help in order to educate others about the amazing work we do for our patients.