April 1, 2021 by
Elizabeth Quinn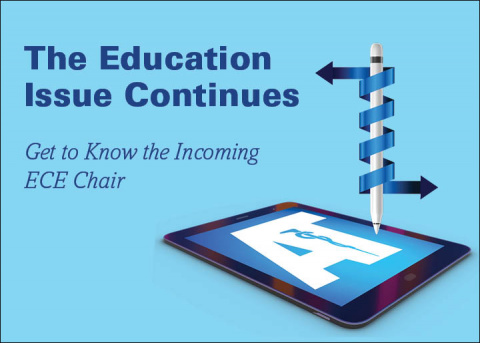 The NATA Executive Council for Education began its search for a new chair in July 2020. Former NATA Professional Education Committee Chair Brian Vesci, DAT, ATC, was selected as the new ECE chair and will start his term in June 1.
Vesci has been involved with NATA education efforts for a number of years as a member of the PEC, including serving as PEC chair for the past three years. He said he was drawn to education and wanted to be the ECE chair because it would offer him a greater platform to service the profession and affect positive change.
Vesci discussed his previous experience, plans for the future of the ECE and importance of education in this Q&A.
What are your goals as ECE chair?
When I applied, I was asked to submit within the letter of interest eight to 10 goals for my time as ECE chair. The three that I would like to highlight here are:
To establish athletic training as a destination profession, ensuring the equitable and inclusive recruitment and retention of an increasingly diverse membership.
Cultivate post-professional education and clinical specialization as an aspiration of all athletic trainers.
Engage internal and external health care and educational organizations to cement public opinion of athletic training as a vital part of the interdisciplinary health care team.
What are you looking forward to most as the chair?
The opportunity to serve the profession and its educational interests during a really exciting time for both professional and post-professional education with the recent implementation of the new professional standards, the soon to be implemented residency and fellowship standards and the upcoming opportunities for specialty certification.
Tell me about your previous volunteer history.
I believe I started with the PEC in 2013 as a District One representative. Many conversations at that time around education in athletic training centered around the professional degree. Soon after that, the white paper on professional education in athletic training was published.
Other projects  I have worked directly on as a PEC member include the Master Preceptor Program and transition to practice document. The initial PEC work on transition to practice developed into a workgroup that I was honored to co-chair.
The project the PEC is working on that I am currently most excited about is the Clinical Immersion Program. I had a very strong interest in focusing on improving clinical education as my time as PEC chair, and I believe we have provided some valuable resources for members in that area.
How does that experience prepare you to be the ECE chair?
I think that being around the ECE for as long as I have as a PEC member and then as PEC chair, I feel very well-versed in the vision and mission of not just the ECE, but also of the individual committees that make up the ECE. Also, as the co-chair of the Transition to Practice Workgroup, I had the pleasure of serving with representatives from many of the committees that make up the ECE. These experiences have helped me gained a well-rounded perspective regarding the opportunities each ECE committee has to serve the membership.
Why is lifelong learning important to you?
I do believe that lifelong learning is important. I am not sure exactly where the drive comes from, but I have always been driven to be better and to continue moving forward. I have a strong belief that those I serve, whether it is my patients, my colleagues or the NATA membership, deserve my best efforts. So I strive to continue learning, but I don't believe it is just about exposing ourselves to new things. I think a really important part of lifelong learning is reflection. Learning new things and having new experiences are incredibly important, but reflecting on what I have done and gaining new perspective is a passion of mine.
Why is education so important to you?
I believe that learning is how we grow, and things that do not grow do not thrive. I really enjoy watching others thrive, and I have found that helping others through education is an effective and enjoyable way to watch them thrive. Although it may seem altruistic, it is actually more selfish as I have great joy and watching others succeed.
How will you continue further the transition and growth of the ECE from committee to council?
I believe our current chair, MaryBeth Horodyski, EdD, LAT, ATC, has done a very nice job positioning the ECE for success both in the short term and in the future. The ECE has functioned much like a council during my time on it, but its previous committee structure would at times challenge its ability to act quickly. I believe the current structure is well-suited to address the educational needs of the profession. From that perspective, my intention is to serve the other members of the ECE by getting them the resources and providing them the space they need to drive this profession forward.
How will you serve members?
I believe they can expect honest and transparent communication. I am still deciding upon the best avenues to explore related to this communication, but I would like the membership to be well-informed of the efforts the ECE is taking to improve the profession. They can also expect that if they reach out with questions or concerns regarding what we are working on, they will be heard and responded to directly. I intend to serve them with passion and integrity. I care deeply about this profession and education in general and hope that is evident by my time as ECE chair.
I am thankful for this opportunity to serve and am very excited to get started.