June 23, 2021 by
Elizabeth Quinn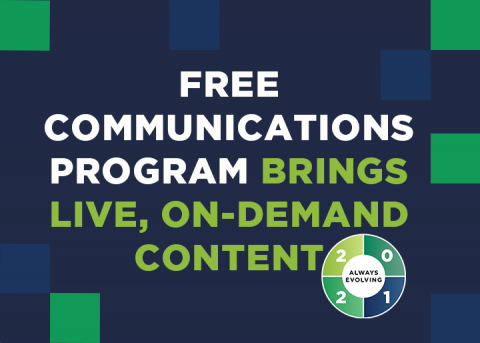 The NATA Research & Education Foundation Free Communications Program provides a forum for researchers and clinicians to disseminate research and clinical case studies, and is often the first time they're able to present their research.
During the 2021 NATA Virtual Clinical Symposia & AT Expo, the Free Communications Program will feature more than 400 presentations, which will be offered through nine live sessions through June 24, eight on-demand sessions and numerous digital posters.
"While we were hoping to return to in-person meetings this year, we are excited to host another virtual Free Communications Program at VNATA 2021," said Free Communications Committee Chair Jeff Driban, PhD, ATC, CSCS. "Last year, a lot of presenters shared key take-home messages on social media, and I hope attendees will keep an eye out for hashtags like #FreeComm2021. Each session also has a unique hashtag to help people find the latest information from specific sessions."
Live Free Communications Program presentations will be on-demand through Sept. 30, and there are additional presentations that will on-demand only. For a full list of presentations, visit the Education webpage on the convention website.
All oral and poster presentations, live and on-demand, being presented at VNATA 2021 were published in a  Journal of Athletic Training supplement. 
"The Free Communications Committee and NATA Foundation staff built on last year's program and created a great program that I think attendees will enjoy," Driban said.
The recipients of the Free Communications Awards will also present oral presentations during VNATA 2021. The purpose of the Free Communications Awards program is to recognize and encourage the research efforts of athletic trainers and athletic training students. The program awards outstanding research based on Free Communications Program abstracts and presentations. There are five award categories, designed to recognize the research spectrum.
This year's winners include:
Pre-Professional/Professional Student: Claire Brewer, University of Alabama, "Preliminary Investigation Between Race as a Social Determinant of Health and Symptom Endorsement Following a Sport-Related Concussion"
Post-Professional Advanced Clinical Track Student: Kennedy Dewey, ATC, George Mason University, "The Epidemiology of Injuries in Middle School Baseball Between the 2015-16 and 2018-19 School Years"
Post-Professional Terminal Degree Student: Xavier Thompson, MS, ATC, University of Virginia, "Disagreement in Pass Rates Among Different Components of Return-to-Sports Test Batteries After ACLR"
Early-Career: Alicia Lacy, PhD, ATC, A.T. Still University, "Athletic Trainers' Perceptions of and Experiences With Unlearning in Clinical Practice"
Established Career: Tamara Valovich McLeod, PhD, ATC, FNATA, A.T. Still University, "Test-Retest Reliability of the Concussion Quality of Life: Youth Patient-Report Outcome Measure (Version 1)"
Through 2021, more than 6,400 oral and poster presentations have been provided through the Free Communications Program. To learn more about the Free Communications Program, visit the NATA Foundation website.