August 24, 2020 by
Elizabeth Quinn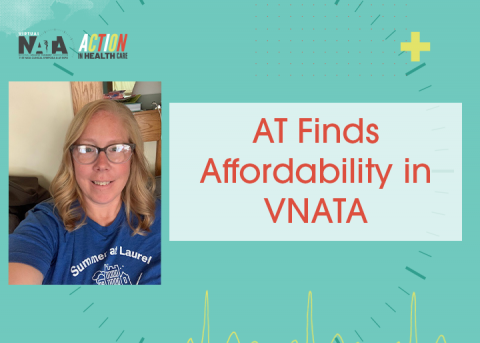 Editor's note: NATA reached out to athletic trainers who participated in the 2020 NATA Virtual Clinical Symposia & AT Expo to learn about their experiences for a blog series called My VNATA Experience. If you would like to share your thoughts on VNATA 2020 as well, email marketing@nata.org.
District Four secondary school athletic trainer Julie Swartz, MS, ATC, has attended NATA Clinical Symposia & AT Expo prior, but for 2020, she wasn't going to be able to make a in-person convention. Swartz said that when NATA introduced the 2020 NATA Virtual Convention Symposia & AT Expo, she was able to attend because of its affordability and the chance to continue viewing the sessions even after the live portion concluded.
Learn more about VNATA 2020 on the convention website. While the live event has ended, registration is still open throughout the entire on-demand period, which ends Sept. 10.
What was your favorite part of VNATA 2020?
Being able to attend great sessions, have good conversations in the chats, still be able to visit the AT Expo and an added bonus was the ability to continue learning into September.
What new knowledge/takeaway from VNATA 2020 will you use in your daily practice?
"Neuromechanics of Hamstring Strain Injuries" was a wonderful session and gave lots of good information for how I will treat hamstring injuries moving forward. I also really enjoyed that the session "Treatment of Ankle Sprains & Instability: Linking Theory to Practice" gave me a lot of new insight on treatment of ankle injuries to help keep athletes from having repeat injuries within six months of the original injury. I also took a lot away from "Can I Say That? Addressing Racial Microaggressions in Athletic Training Clinical Practice." I learned a lot and hope to be able to continue having positive conversations with my athletes and colleagues.
Why would you recommend VNATA 2020 to your fellow ATs?
I think it was done very well and that there were many good sessions to attend. The price for getting up to 25 CEUs was phenomenal, and the ability to continue learning until Sept. 10 is a great addition. I think the value of the conference was fantastic.
Is there anything else you'd like to tell us about your VNATA 2020 experience?
I really enjoyed convention in this format, and I hope it will be considered as an additional aspect to convention as things return to "normal" post pandemic. For ATs who do not have employers who will help pay for them to attend convention, or due to having young children or other reasons that they cannot travel each year, the virtual format is wonderful!