November 11, 2021 by
Elizabeth Quinn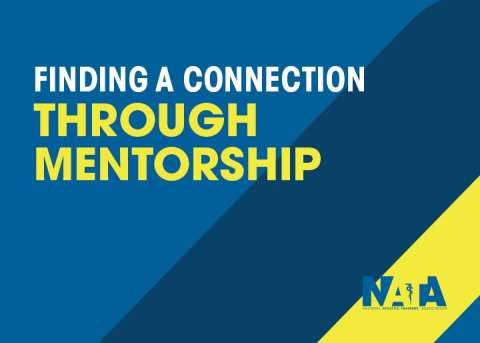 Connection is an important part of the athletic training profession, and NATA understands that. To better provide members with the resources they need, NATA has facilitated a multitude of opportunities for members to grow their network, land a job and foster a real connection with other ATs in the community.
The NATA Mentor Match Program, an exclusive NATA member benefit on Gather, is the place to facilitate mentor-mentee relationships and connect ATs. There currently are more than 200 members, and counting, in the program. One of the matches made this year was between Anna Sedory, MS, LAT, ATC, and Karina Gonzalez, MS, LAT, ATC.
Gonzalez is currently in the secondary school setting and working on her doctorate in athletic training; however, Gonzalez is wanting to work in the same setting as Sedory – public safety. Sedory has worked in this setting for over 10 years, and as the Fairfax County Police Department AT and director of injury care and prevention, Sedory's first-hand experiences and expertise with public safety officers provides Gonzalez with an extensive amount of insight and knowledge.
Gonzalez first read about Sedory in the June NATA News Built for This article, which discussed how Sedory sped up the recovery time for a police officer. When Gonzalez applied for the Mentor Match Program, she saw Sedory was available as a mentor and contacted her.
It was great to see Sedory as a mentor because Gonzales had just finished reading about her in NATA News, and Sedory is doing what Gonzalez wants to pursue in the near future, making her the perfect fit for the mentorship relationship, Gonzalez said.
NATA spoke with Gonzalez and Sedory to see how their new mentor-mentee relationship has flourished since connecting this fall.
Why did you decide to apply to the NATA Mentor Match Program? Have you been in a mentor-mentee relationship before?
Anna Marie Sedory: While I've been fortunate to be mentored by many great ATs throughout my career, and I've served as a preceptor to many athletic training students, I hadn't been in a formal mentoring relationship prior to this summer.  
Using Gather as a launching place for mentoring relationships is a great innovation, and I wanted to support the initiative. Students, younger professionals and career changers are often curious about the public safety setting; I usually only have the opportunity to answer questions via email and during college class visits. A formal mentoring relationship seemed like a better opportunity to connect with someone over their specific questions and needs.
Karina Gonzalez: This is my first mentor-mentee relationship. While getting my doctorate in athletic training, I was encouraged to find a mentor and reach out and start the networking process. When looking into different possible mentors, I went to NATA and found Anna. It's still relatively new, but it's going well. She's definitely someone I can relate to and easy to talk to and open up to.
What has your mentorship relationship experience been like so far?
Sedory: It's been great so far! Juggling schedules and time zones is tough, but we've figured out a rhythm and have spoken over the phone and via Zoom.
Gonzalez: We've mainly talked through email, text or Zoom. We've talked about a variety of things, getting to know each other and getting to know the setting and practice. My goal is to work in military and public service. I've enjoyed getting her side and the ins and outs of each day and learning about the things she's currently doing to promote and grow her practice. I share with her when I have a particular case I'm struggling with and bounce ideas to see if there's anything more I can do to get fresh eyes to it.
Tell us about some of the successes of the mentorship relationship so far.
Sedory: Karina is an incredibly competent adult who's been around athletic training for a while. We've had discussions about the challenges of changing settings and the differences between contracted and embedded positions in public safety. We've brainstormed through some challenging cases – hers and mine. We have plans for me to present patient scenarios from my experience for her to think through and practice her clinical decision-making skills.
Gonzalez: I know a couple weeks ago, we were talking, and I was having a little burnout. Just talking to Anna about it, the stresses happening, and having someone in profession providing fresh eyes helping me understand it's a hard situation was great. She gave me a motivational boost to push through it and work through burnout. That week was particularly helpful.
What has been the most rewarding part of the mentorship relationship?
Sedory: I've really enjoyed getting to know Karina. The opportunity to connect with a colleague on an individual basis and potentially contribute to their success is really exciting. So many opportunities for professional socialization are surface level. Mentoring feels like a way to achieve some of the same goals only with more opportunity for individualization. Selfishly, this gives me the opportunity to interact with another AT, which is something I don't get to do much as the sole AT for the department. I had missed the opportunity to talk through a case, discuss current Board of Certification for the Athletic Trainer, NATA and CAATE initiatives, or make a personal connection with another AT. This gives me that opportunity.
Gonzalez: I think it's mainly getting to see a female in the role that I eventually want to work into. Being able to connect with another AT and another professional in general about my practice and having openness has been really rewarding.
What advice would you give to someone who wants to begin a mentor-mentee relationship?
Sedory: Sign up for the mentor program in Gather! I never thought of myself as someone who was qualified to mentor. I never even thought about how mentoring relationships start. I have always wanted to be available to help others on their athletic training journeys so when the Gather program started I signed up and a year later, here we are. Be patient, and be yourself. 
Gonzalez: Do it! It's a great chance to not only meet peers with the same passions, but you get to open your practice up to other clinicians and get insight that you may not have seen otherwise. I think it's super important to build relationships with people who can help keep you curious and keep you learning, and that's what I think mentoring is about – continuous learning and growing with a peer. It's great to have someone who has been in the profession for a while and pick their brain, and to help guide newer clinicians into their journey.
Renew Your NATA Membership
NATA is working every day to ensure you have the advocacy, professional growth, connection and support needed to keep athletic training essential to health care. By being an NATA member, you are investing in yourself, your profession and your future. Visit the NATA Member Benefits webpage to learn more about what comes with being an NATA member and renew your membership today. The deadline to renew is Dec. 31.
Don't let money get in the way of investing in yourself and your profession. Contact Member Services at 800.879.6282 or membership@nata.org to see how we can help.