April 23, 2020 by
Elizabeth Quinn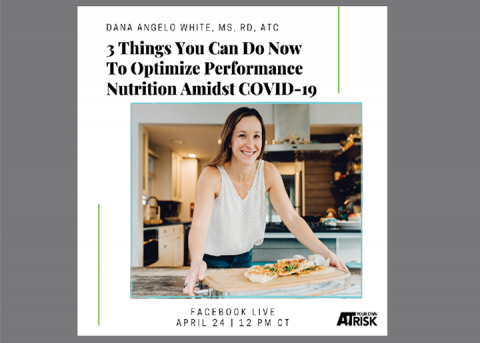 Between an overall more sedentary lifestyle because of quarantine and the stress that surrounds COVID-19, nutrition can sometimes take a backseat – and with it an athlete's performance, which heavily depends on good nutrition. Join At Your Own Risk during a Facebook Live with Dana Angelo White, MS, RD, ATC, about nutrition during COVID-19 at noon CDT April 24.
The Facebook Live, titled "Three Things You Can Do Now to Optimize Performance Nutrition Amidst COVID-19," will cover meal and snack timing, how to best recover and easy meal recipes, including a cooking demonstration. There will also be time at the end for a Q&A. ATs should share this Facebook Live with their athletes and members of their communities as a resource.
White is a registered dietitian, certified athletic trainer, cookbook author, journalist and nutrition and fitness consultant as well as the sports dietician and associate clinical professor of athletic training at Quinnipiac University in Conneticut. She specializes in culinary nutrition, recipe development and sports nutrition. White works closely with chefs and authors to develop creative and healthy recipes for cookbooks, magazines and menus. White conducts workshops and cooking demonstrations for fitness organizations, corporate settings and schools.
Be sure to follow At Your Own Risk on Facebook, Twitter and Instagram to learn more about its Facebook Live events, workshops and webinars.