February 22, 2021 by
Elizabeth Quinn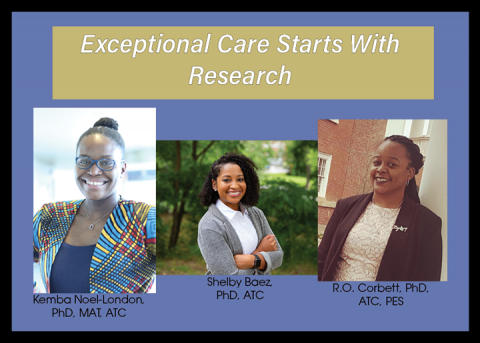 In honor of Black History Month, NATA is conducting a weekly blog series throughout February that showcases Black athletic trainers who work with elite patient populations. This blog features three scholars: Shelby Baez, PhD, ATC, R.O. Corbett, PhD, ATC, PES, and Kemba Noel-London, PhD(c), MAT, ATC.
Whether working with elite athletes, performing artists or warehouse employees, athletic trainers provide the best possible care to their patients. At the heart of exceptional patient care is exceptional research.
Athletic training scholars help move the profession forward, ensuring athletic trainers have access to the latest health care developments and insights. Below is information on three Black athletic training scholars whose work will be featured in the Journal of Athletic Training this year.
Shelby Baez, PhD, ATC
Shelby Baez, PhD, ATC, is an assistant professor and the co-director of the Athletic Injury and Rehabilitation Laboratories in the Department of Kinesiology at Michigan State University. Baez completed her bachelor's degree in exercise and sports science with a concentration in athletic training from the University of North Carolina at Chapel Hill, her master's degree in athletic training from the University of Kentucky and her doctorate in rehabilitation sciences from the University of Kentucky. 
Baez's research expertise is in psychological intervention after sports-related injury. Her previous research also examined the consequences of maladaptive psychological responses on health outcomes, including physical activity engagement, return-to-sport rates and brain activity in patients after anterior cruciate ligament reconstruction. Throughout rehabilitation with her patients as an AT, she often found that many of the barriers she observed were not physical but rather psychological. This prompted her to pursue a career in research cultivating evidence to shift current rehabilitation paradigms from strictly addressing biological aspects of injury to promote a patient-centered approach to rehabilitation through psychologically informed clinical practice strategies.
During the COVID-19 pandemic, Baez is running a telehealth randomized controlled trial examining the efficacy of a four-week mindfulness meditation intervention, delivered via telehealth services, to improve health outcomes in patients between one and five years post anterior cruciate ligament reconstruction.
 In an upcoming issue of the Journal of Athletic Training, Baez's research, "Neuroplasticity in Corticolimbic Brain Regions in Patients after Anterior Cruciate Ligament Reconstruction," will be published.
R.O. Corbett, PhD, ATC, PES
R.O. "Dr. ROC" Corbett, PhD, ATC, PES, is an independent sports medicine researcher and diversity, equity and inclusion consultant. Her research interests include racial disparities in health care for active and athletic populations; psychosocial aspects of sports medicine and athletic training; chronic ankle instability and its impact on quality of life; and the role fear and confidence play in return from lower extremity injury. Corbett is committed to working in the diversity, equity and inclusion realm of higher education, conducting workshops for the implementation of culturally competent practices in higher education and allied health professions.
Understanding the importance of patient-centered care and student-centered learning, Corbett likes to break down the need for empathetic, inclusive and equitable practices, while also breaking down research articles, all with the intention to facilitate better outcomes under her social media pseudonym, Abstract AT.
One project Corbett is currently working on about health literacy being evaluated within the intercollegiate student athlete population. The data collected shows that different demographic identifiers combined play a role in how this particular population views and interacts with the health care system. Corbett's recent project, "Athletic Trainers' Perception on Treating and Managing Ankle Sprains," will be published in an upcoming Journal of Athletic Training issue. The research evaluated ATs' understanding, perceptions and the difficulties faced when treating and managing acute and long-term effects of ankle sprains.
Kemba Noel-London, PhD(c), MAT, ATC
Kemba Noel-London, PhD(c), MAT, ATC, is a health equity researcher with an interest in exploring the organizational and policy-level influences on physical activity disparities and structures that facilitate or impede youth access to health care. Additionally, she is exploring disparities in sport and physical activity opportunities and the relationship between sport and the mental and physical health outcomes of youth who have experienced adverse childhood experiences. She also uses spatial analysis to examine how geography, societal context and public policy drive youth health disparities in minority communities, specifically disparities in physical activity, sport opportunities and access to health care. She currently serves as lab manager, an athletic trainer in underserved St. Louis schools and is on the advisory board to Clyde C. Miller High School's health professions program.
Noel-London is a proud Trinbagonian woman and is a former national athlete. She has represented her country as an athlete in volleyball and a professional as the head athletic trainer for Trinidad and Tobago men's rugby program as well as part of the medical staff for the Trinidad and Tobago Olympic Committee. Noel-London is passionate in advocating for a deeper understanding of health disparities and inequities in athletic training education as well as a stronger use of community-based participatory research that centers interventions on the needs of the community.
Noel-London wrote the lead editorial in the January's Journal of Athletic Training, "'The Tip of the Iceberg': Commentary on Sports, Health Inequity, and Trauma Exacerbated by COVID-19," which looks at inequities and their interplay with race in sports and athletic training before and during the COVID-19 pandemic.